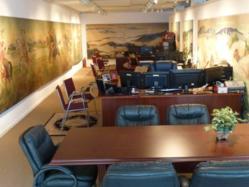 We design websites and marketing programs to achieve very specific business objectives
Buchanan, MI (PRWEB) October 25, 2012
Precept Partners, website design and marketing specialists, have moved their operations to a shared space in the Buchanan Museum of Fine Art. The company's new offices include an expanded client conference area with multi-media display for presentations and training.
"The art work both adjacent and within our offices creates a unique ambiance", said Stephen Antisdel, manager of Precept. "Our new office space is wrapped by beautiful murals painted by Edward Buyck (1880 to 1960), that as combined, are nearly 6 foot tall and total over 100 feet in total length. These are two works, consisting of four panels each. One entitled "The Falcon Hunt" and the other is entitled "A Canadian Scene". These hung in the once famous "Tavern on the Green" and another New York City restaurant for decades. They've been on display at the Buchanan Museum of Fine Art since 2009. Edward Buyck's works have also been featured in The White House collection, the Vanderbilt and Getty collections."
Precept reports the company has been adding clients in multiple sectors including high technology, manufacturing, service and retail industries. "We design websites and marketing programs to achieve very specific business objectives", Antisdel added. "We're proud to have developed very effective solutions for clients like Crown Audio, Fernwood Botanical Garden, Buchanan Museum of Fine Art, Wear to Win, PromoQuip and many others."
The company maintains regular office hours at 102 East Front Street in Buchanan, Michigan from Monday through Friday, from 9 am to 5 pm, and at other times by appointment.
About Precept Partners
Precept Partners provides award winning website design, development and marketing services proven by more than $100MM in online sales revenue. Launched in 2003, the company serves clients in retail, professional services, e-commerce, OEM manufacturing, technology and not-for-profit sectors. Media recognition includes coverage in The Wall Street Journal, BusinessWeek, and NPR. Client awards include the Inc. 500, the Internet Retailer 500, the Hot 100 Best Retail Websites, the Webby Award and many others. More information at http://www.PreceptPartners.com