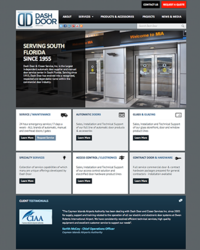 We wanted to create a site that is not only visually appealing, but one that tells our story and provides a wealth of resources
Miami, Florida (PRWEB) October 25, 2012
Dash Door & Closer Service, Inc., a leading Florida-based commercial door distributor and contractor specializing in automatic doors, glazing and related services, launches their newly developed website, http://www.dashdoor.com, designed for the South Florida building maintenance and new construction industries. The new site offers rich graphics and ease of viewing of both products and projects, highlighting the company's six divisions: service/maintenance, automatic doors, glass & glazing, specialty services, access control & electronics and contract door & hardware.
"We wanted to create a site that is not only visually appealing, but one that tells our story and provides a wealth of resources," says Steven Sanko, COO of Dash Door. "The site does a great job in categorizing our six divisions of services, offering a single-source solution for our clients."
For additional information visit http://www.dashdoor.com, email info(at)dashdoor(dot)com or call 305-477-1164.
# # #
About Dash Door – Founded in 1955, Dash Door is an independent automatic door distributor, service center and contractor offering a single-source solution for interior and exterior glazing systems and doors. Dash Door is the largest automatic and manual commercial door service center in South Florida offering an extensive line of products and services for doors, hardware and glazing solutions with Miami-Dade and Florida Building Code approvals for hurricane-impact requirements.
Dash Door is located in Miami, Florida. For additional information on Dash Door's products and services, visit http://www.dashdoor.com or call 305-477-1164.