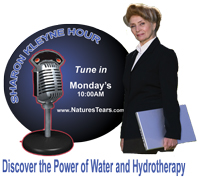 Grants Pass, OR (PRWEB) October 24, 2012
DeWayne Cecil announces that population control and fresh water resources should be top global priorities, on the Sharon Kleyne Hour Radio Talk Show.
Protection of fresh water resources, and population control, should be the top two priorities of every governing body on Earth. They are the key to all economic development and to the survival of humans as a species.
That was the conclusion of DeWayne Cecil, PhD, in an interview on the Sharon Kleyne Hour Power of Water radio show, October 15, 2012. Dr. Cecil was a researcher for NASA (National Aeronautics and Space Administration) and NOAA (National Oceanic and Atmospheric Administration), and currently works for the National Climatic Data Center in Ashville, North Carolina.
Dr. Cecil is especially concerned about cuts in NASA and the Earth Observation Satellite programs, which gather data used to make long-range predictions about global water resources and population distribution (which are interrelated).
According to Dr. Cecil, Earth's climate has definitely evolved in the last 50 years but if you examine the record of glacial ice cores, lake sediments and ancient tree rings, weather pattern are naturally cyclical. How much of the current global drying and warming is human caused, and whether it is cyclical or permanent, remains be determined.
"The study of weather and climate is not just about whether to wear a coat," says Dr. Cecil. "It's about our survival as a species." According to Dr. Cecil, Earth can only sustain a half-billion people in a "Western" consumption oriented lifestyle whereas Earth's population recently passed seven billion. According to Dr. Cecil, there are only enough resources on Earth to sustain about a half-billion people in the current "Western" lifestyle. Of Earth's seven billion people, 1/3 lack access to abundant and clean fresh water.
Sharon asked about the difference between "climate" and "weather." According to Dr. Cecil, "climate" is "weather" averaged out over a long period. In other words, "climate is what you expect and weather is what you get."
"We can predict weather fairly accurately to about ten days in advance," says Dr. Cecil, "but our ability predict weather over two to 20 years is less accurate. Predicting weather and climate, which tells us the availability and distribution of water, is essential to agricultural production, population growth and movement, health, and quality of life."
Sharon Kleyne asked if there were lessons to be learned from studying water, or the lack thereof, on Mars and the Moon. She noted that Mars appears to have had far more water in the distant past and wondered if recent global climate changes reflect a similar future for Earth.
According to Dr. Cecil, the most recent Mars explorer ("Curiosity") discovered a type of surface basalt with a high water content indicative of a former oceanic floor. Mars also shows evidence of past water erosion and polar ice caps.
The Moon, says Dr. Cecil, is Earth's closest neighbor and is extremely large (one-third the size of Earth). The moon strongly affects the ocean tides and "probably" the climate. As ocean levels begin to rise as a result of climate change, the rising tides could affect coastal cities such a New York, Miami and Sao Paulo.
Sharon Kleyne noted that many Martian rocks contain water in chemical combination and that the Mars atmosphere contains 201 parts per million of water. The Moon, in contrast, has virtually no water (or oxygen) in its rocks or atmosphere. On Earth, water is everywhere and permeates everything and the atmosphere's average water content is 10,000 parts per million.
For a written summary and/or an on-demand podcast of Sharon Kleyne's September 15, 2012 interview with Dr. Cecil, go to http://www.SharonKleyneHour.com. The Sharon Kleyne Hour Power of Water is broadcast live on Mondays, 10 a.m., PST/PDT. The syndicated talk show is heard on Voice America/World Talk Radio, Green Talk Network and Apple iTunes.
© 2012 Bio-Logic Aqua Research