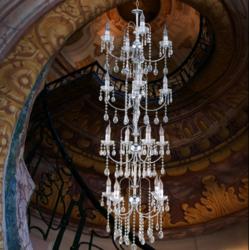 These crystal chandeliers are made from high quality K9 crystals which has a 30% lead oxide content and is considered to be one of the best quality crystals in the market today
Allen, TX (PRWEB) October 26, 2012
TheInteriorGallery.com has just premiered their new crystal chandelier collection offering home owners and businesses a range of high quality lighting fixtures to consider. The Interior Gallery added a total of 33 new exquisite crystal chandeliers to their Lighting range which could be seen clearly on their website.
These crystal chandeliers are made from high quality K9 crystals which has a 30% lead oxide content and is considered to be one of the best quality crystals in the market today. The chandeliers come in either high polished gold or chrome finishing. While the style of the chandelier may somewhat be the same as the traditional antique style chandelier silhouette, yet it has a modern twist to the design as well.
According to The Interior Gallery spokesperson, each of these K9 crystals that make up the entire chandelier are machine cut with precision before being polished to provide a pure and exquisite optical clarity lighting experience. Each chandelier is UL certified to ensure safety standards are followed. When lighted up, these high class chandeliers will provide a warm and peaceful atmosphere with lots of beautiful sparkle in any room.
The Interior Gallery is currently offering their premium range of crystal chandelier collection on sale making these lighting fixtures affordable for homes and businesses. Customers who wish to see the actual chandeliers could view them at the company's $3 million showroom which is located in Allen, Texas. The newly opened showroom has all of The Interior Gallery's products on display for customers to check out before they make their purchase. Other than lighting, the company has a wide range of bathroom products, luxury furniture, home décor and themed statues.
Many of the company's clients consists of home owners who are buying their first home or are having their current house renovated or remodeled. Even popular restaurants such as TGI Fridays and well known jewelry shops like Tiffany & Co. are clients of the company.
The Interior Gallery also offers other types of lighting besides their new crystal chandelier collection. Customers will be able to find floor lamps, table lamps, wall lamps and sconces in their lighting range. The company believes in offering high quality products at affordable pricing to their customers.
TheInteriorGallery.com is a factory direct company that sources all their products directly from manufacturers. Most of their products are custom designed and shipped directly to the company's distribution center in Carrollton, Texas before being shipped to customers directly.
For more information, please visit http://www.TheInteriorGallery.com or contact the company's customer service at toll free 866-205-6867.