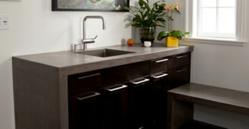 Dade City, FL (PRWEB) October 31, 2012
Industry leading decorative concrete product manufacturer, SureCrete Design Products, is proud to announce its November 14-16 hands on training dates for learning the ins and outs of concrete countertops, as well as the innovative GFRC technology.
This hands on, intensive course will provide participants with the essential knowledge required to template, form, design, pour and finish concrete countertops, wall panels, integral sinks and custom fabrication in both residential and commercial applications.
Participants will also learn how and when to use the SureCrete Xtreme PreCasting mix, Xtreme GFRC Face Mix and why to use the Xtreme Backer mix on every project. This innovative technology makes is possible to cast concrete wall panels and countertops larger and longer than traditional concrete mix designs. SureCrete's expert instructors will illustrate the techniques used to cast fiber reinforced concrete as thin as 0.75" thick and bend it into decorative and functional shapes.
Professional marketing tips and principles will also be shared to help participants setup up a well-managed business and increase their community exposure through online, print and social networking strategies.
Course Cost (1st person): $895.00
2nd person: $495.00
Maximum Class Size: 10
Length: 3 Days
Price includes light breakfast, lunch and training manual. First person cost includes 16"x16" sample making mold, 4"x4" sample making mold, color swatch samples, finished texture samples, creation of a bathroom vanity with integral sink, training manual, marketing and pricing tools, online and social networking tips.