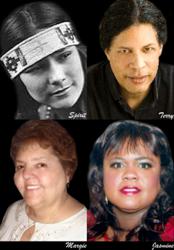 Our psychics abilities to connect with the beyond are especially strong this time of year.
Bucks County, PA (PRWEB) October 25, 2012
Make contact with a deceased relative from the other side. Wondering about a lost love? PsychicsForetell.com will host an online event this Saturday and Sunday from 6pm to 1am EST. The event entails posting a question on the company's Facebook wall or sending a tweet. The company's psychic mediums will answer the question.
Renowned psychics Margie, Jasmine, Terry, and Spirit utilize their guides and medium abilities to make contact from the other side.
PsychicsForetell.com is the most trusted source for the best psychics. We offer live psychic phone readings as well as love, finance and career horoscopes. CEO Erica Gabrielle will be live and engaging in the conversation.