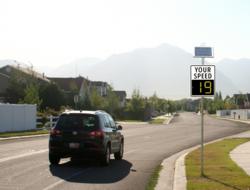 The signs made a difference right away.... If they save even one life, they're worth it.
Monterey, CA (PRWEB) October 29, 2012
For Ariana Green, the Transportation Planner for the city of Monterey, CA, communication is key to effective traffic calming. For the city's program to work, she needs to be able to communicate with the radar signs and with the manufacturer who makes them. After putting Traffic Logix and their SafePace 100 radar sign to the test, the City of Monterey purchased ten of the speed display signs to slow traffic on their roads.
The City of Monterey has a traffic calming plan in place since the early 2000s. Residents submit requests and a committee chooses several projects each year for funding. As part of this program, six local roads were selected for the installation of speed display signs, one of the solutions approved by City Council for use on local roads. The City uses them often as they are lower in cost than curb extensions or other solutions that require construction.
After discovering the SafePace 100 sign, which is compatible with Bluetooth for remote downloads, Ms. Green was eager to try a demo of the sign to test its communication abilities. The demo sign was set up on Dutra St., a small street behind city hall. It was left up for around a week, in which time the City staff reprogrammed the sign remotely using Bluetooth and a laptop, downloaded data, and test drove the software package.
"The [SafePace 100] radar sign was the best fit for what we wanted.," said Ms. Green. "We liked that you can communicate with it remotely without physically opening the signs. The customer service [at Traffic Logix] was terrific. Any question or issue we had was responded to quickly and efficiently."
The City purchased 10 of the SafePace 100 speed signs, several of which has been installed on Glenwood Circle, Prescott Ave, and English Ave. The remaining signs will be installed on Cassanova Ave., Jefferson Rd. and Franklin Ave.
While they haven't collected data on the signs yet, people seem to be slowing significantly when they see the speed display sign. The City received enthusiastic thanks from residents who say that the signs are really slowing cars down.
"The signs made a difference right away," said Lee Whitney, a local resident. "They made drivers more cognizant of their speeds. If they save even one life, they're worth it."
The SafePace 100 speed sign is a compact, economical sign that displays drivers speeds to encourage them to slow down and drive more safely. It offers excellent visibility, power efficiency, and proprietary software.
Traffic Logix offers a complete lineup of radar speed signs from the portable SafePace 100 speed display sign to full size speed signs and radar trailers. The company also manufactures a variety of rubber traffic calming solutions such as speed humps and cushions. For more information, find Traffic Logix on the web, on twitter, and on trafficcalmingblog.blogspot.com.