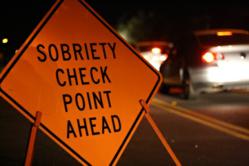 We are dealing with the stop of a person's vehicle where there is no violation of a traffic law or probable cause to believe they have commited a criminal offense...these motorists are given significant protection under the 4th Amendment.
St. Petersburg, FL (PRWEB) October 26, 2012
Last month, a three judge panel of the Sixth Judicial Circuit Court of Pinellas County reviewed the legality of a DUI checkpoint conducted by the St. Pete Beach Police Department. See: Appellate Case Number 11-00076APANO The court's review encompassed that of what initially appeared to be a typical DUI roadblock or "Comprehensive Roadside Safety Checkpoint" designed to snare impaired drivers. As usual, duties were parceled out to each police officer, video cameras were rolling to record field sobriety tests, and breath testing machines stood at the ready.
Attorney Marc Pelletier with the St. Petersburg Law Firm of Russo & Russo believed that the DUI checkpoint was fatally flawed and filed a motion to suppress the evidence gathered against his client. The appellate court agreed with Pelletier and in their "Order and Opinion" stated that:
"Because the written plan governing the checkpoint at issue in this case failed to sufficiently limit the discretion of officers as to the procedure for the selection of vehicles to be detained, the checkpoint was not constitutionally valid. As such, the seizure of the Appellees was illegal requiring their arrests and all evidence obtained as a result of their detention to be suppressed."
The appeals court said it was backing Pinellas County Trial Court Judge William H. Overton in case number CTC10-5281XELASP. Overton had also found in favor of Pelletier by ruling earlier that the St. Pete Beach DUI checkpoint had been conducted contrary to Florida law.
Both the U.S. Constitution and the Florida Constitution protect all motorists against searches or seizures undertaken without a warrant. A stop of your automobile is considered a "seizure." However, there is nothing wrong with a police officer pulling over a vehicle without a warrant in the event he detects a traffic infraction or has "reasonable suspicion" to believe criminal activity is afoot.
But... routinely stopping and detaining motorists at a DUI checkpoint is a different matter. Both the U. S. and Florida Supreme Courts have declared DUI roadblocks to be constitutional since the government's interest in preventing impaired driving "outweighs" the lesser intrusion or inconvenience to the public.
Pelletier argued on appeal that Florida Courts have long required law enforcement to abide by pre-written guidelines that strictly limit the discretion of police officers at DUI checkpoints. The Courts have focused on the need for a written plan that must be closely followed as a method for preventing arbitrary police decision-making at the scene of a roadblock.
In the St. Pete Beach case, Pelletier pointed out that the written plan referenced in the appellate court's order essentially empowered the "officer in charge" with the discretion to stop any vehicle of his choosing, rather than stopping motorists via a pre-determined pattern (such as every third vehicle, every fourth vehicle, etc.)
The DUI defense team at Russo & Russo has a standard policy of obtaining copies of the written plan, "duty roster," on-scene video recordings, and the "after action report" associated with all Pinellas County DUI checkpoints. They have been able to obtain these "internal" police records through formal public record requests. Pelletier said that his careful review of these documents can, at times, reveal flaws in the written plan itself, or uncover the failure of police officers to strictly comply with the operational plan's mandates.
So, in the St. Pete Beach case, does that mean that every motorist who was stopped that evening was illegally detained? Pelletier answered with a resounding, "yes." However, aside from his client, it is highly likely that most other people who were arrested that night simply presumed that their stop at the DUI checkpoint was lawful. Unfortunately, the court system makes the same assumption, unless or until, a lawyer files a motion attacking the legality of the DUI checkpoint stop.
As a Former State Prosecutor, Marc Pelletier acted as an on-site advisor to the police at DUI checkpoints. After becoming a criminal defense attorney, he graduated from the National College of DUI Defense conducted at Harvard Law School. He has also obtained specialized training that is typically only secured by law enforcement personnel. This included certification in the administration of Standardized NHTSA Field Sobriety Exercises and in the operation of the Intoxilyzer 8000 breath testing device.
Earlier this year, interim Pinellas County Sheriff Bob Gualtieri said he intended to have his deputies execute at least one DUI Checkpoint each month. Gualtieri has kept his word. Since his pronouncement, the Pinellas County Sheriff's Office has routinely conducted DUI roadblocks. These DUI checkpoints have strategically been located in heavily travelled corridors such as US 19 North in Tarpon Springs, Tampa Road in Oldsmar, Ulmerton Road in Clearwater, Missouri Avenue in Largo, 66th Street North in Kenneth City, and Hercules Avenue in Clearwater.
If 2011 is any guide, you should know that last December, the Pinellas County Sheriff's Office conducted 4 separate DUI checkpoints during the holiday season. As law enforcement persists in stopping motorists, the defense attorneys at Russo & Russo said they will continue to carefully scrutinize police activity at all DUI checkpoints.