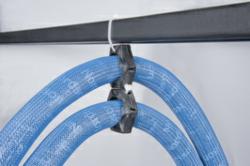 Duluth, Ga. (PRWEB) October 25, 2012
RediFlex hot melt hoses from Nordson Corporation (Nasdaq: NDSN) have been improved to incorporate integrated mounts that prevent the most common causes of premature hose failure, reducing downtime, frequency of replacement and parts costs for users of hot melt adhesive dispensing equipment.
The mounting devices, spaced at 24-inch (61 cm) intervals, help prevent damage caused by compression and sharp bends that can result in hot spots and electrical short circuiting. Hoses can be easily routed and kept off of manufacturing plant floors where they are subject to damage from traffic. The mounts provide a simple and safe alternative to the use of plastic tie-wraps, which are often pulled too tightly and cause damage to the electrical components and wiring within heated hoses.
Correct routing and mounting helps maintain consistent temperature for improved adhesive performance, less adhesive charring, fewer clogged dispensing applicator nozzles and reduced downtime.
Made of durable Ryton® polyphenylene sulfide, the hose mounts withstand demanding manufacturing plant conditions.
For more information on RediFlex hot melt hoses, contact Nordson Corporation at (800) 683-2314 or visit http://www.nordson.com/hotmelt.
Nordson Corporation delivers precision technology solutions that help customers increase speed, productivity and up-time, enable new products and features, and decrease material usage. The company engineers, manufactures and markets differentiated products and systems used for dispensing and processing adhesives, plastics, coatings, sealants, biomaterials and other materials, fluid management, testing and inspection, and UV curing and surface plasma treatment, all supported by application expertise and direct global sales and service. Nordson serves a wide variety of consumer non-durable, durable and technology end markets including packaging, nonwovens, electronics, medical, appliances, energy, transportation, building and construction, and general product assembly and finishing. Founded in 1954 and headquartered in Westlake, Ohio, the company has operations and support offices in more than 30 countries. Visit Nordson at http://www.nordson.com, twitter.com/Nordson_Corp, or Facebook.com/Nordson.