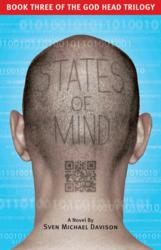 The conclusion is mind blowing.
Los Angeles, CA (PRWEB) October 29, 2012
On October 28, 2012, "State of Union," Sven Michael Davison's second novel in his God Head Trilogy, was released into stores. With its central plot device of immunization as a way to invade a body and take over a person's mind, the pub date is apropos to flu shot season.
THE ENEMY LIES WITHIN…
After living on the fringe of society for five years, Jake Travissi returns to civilization to find that a recent nano-virus epidemic has killed millions worldwide. Implanting a Personal Chip (a device which enhances the mind with the capabilities of a smart phone and personal computer, but also creates a window for hackers) into the brain is the only cure. As if this wasn't bad enough, Jake has been asked to kill his former LAPD colleague Joaquin Parks. Parks is now the head of a church accused of nuclear terrorist acts around the world. Meanwhile, the dawn of Artificial Intelligence and the promise of immortality could be just around the corner…
With his fiancée Tomoko Sakai and his faithful Husky Lakshmi, Jake is thrown into the center of a conspiracy engineered by an international group of powerful men and women who call themselves The Consortium. The Consortium's goal is to end Free Will and establish absolute control over the world.
In his quest to defeat this powerful enemy, Jake finds himself traveling to Antarctica, Los Angeles, Arizona, Beijing, Shanghai, Mumbai, and Acapulco. But time is running out, as all of humanity rapidly approaches large-scale genocide or life as automaton zombies.
"The follow-up to 'State of Mind,' Sven's award winning start to his God Head Trilogy, takes the storyline to an exponentially higher level." States Jeannine Patton, Senior Vice President of Bedouin Press' publicity department. "We are very pleased with the initial reviews."
State of the Union is like getting smashed in the face with a circuit board. It's as paranoid as Phillip K. Dick, but has the same tech head smarts as Neil Stephenson. This ferocious follow-up to State of Mind is faster, and easier to sink your teeth into. - Daniel Kucan, author of the Full Contact series and star of A&E's "Sell This House: Extreme"
I find it disturbing that I see present-day indications that this could actually be the case. But, by far, the most frightening aspect in this captivating story is the possibility of "enhanced" or genetically engineered animals. READ THIS BOOK! - Mary C. "Home Spun Remedies"
The third and final installment to the God Head Trilogy is titled "States of Mind" and will be released on April 15, 2013. "The conclusion is mind blowing." Patton elaborates.
THE CHILD OF DARKNESS IS LIGHT…
Through the viral form of The Chip, The Consortium has solidified their rein over the Earth. Freedom's last hope lies with the free colonies on the moon, Artificial Intelligence, and the will power of Jake Travissi. But another AI is born from the minds who would control us, and he has no interest in the weakness of flesh.
Having lost everything, Jake joins the resistance in the ultimate battle to bring back free will. From tank battles in Riyadh to sabotaging the International Space Agency's station in orbit around the earth, Jake is sucked into a maelstrom of conflict which lands him on the moon to face the solar system's most vicious foe, an AI named Constantine who feels humanity's exit from the universe is long overdue.
In a final battle for the survival of the human race and his own mind, Jake travels to Riyadh, Kennedy Space Center, Guilvinec, Vancouver, Banff, Washington DC, Silicon Valley, Denver, and the Moon. But once again Jake must determine what is real and what is illusion crafted by his ruthless AI enemy to misdirect the human race.
The first book "State of Mind," is a finalist and winner of two Dan Poynter's Global eBook Awards.
"A thoughtfully composed piece of cyberpunk that will please readers of both science fiction and noir." – Kirkus Reviews
"Davison's Los Angeles is pulpy- vibrant, an unforgettable wasteland. State of Mind is the world of the near future, the horrible synthesis of human desire and the technology to make it a reality." – ForeWord Reviews
"An intelligent, thought provoking, cinematic post-cyberpunk thriller and a great read."

"This book deserves to go directly to the 'Top Ten Best Sellers List.'" – Deb Shunamon, Reader Views.
"A classic near-future techno-thriller, with layers of intrigue, interesting twists and just a dash of pulp mixed in for good measure. Sven Davison's State of Mind is an engrossing journey through a well-considered and completely plausible world."

Bill Hunt, Editor The Digital Bits.com
"State of Mind" is a tense, thoughtful and well-paced sci-fi tale drawn from Davison's life, imagination and his experiences with technological innovation. – Pod Cast Interview by Bryan Reesman
STATE OF UNION
Book Two of the God Head Trilogy
By Sven Michael Davison
Published by Bedouin Press
$25.95 • (390 pages) • 6 x 9
Hardcover with dust jacket • ISBN: 978-0-9855528-2-4
eBook $4.99
For more information visit http://stateofmindbook.com