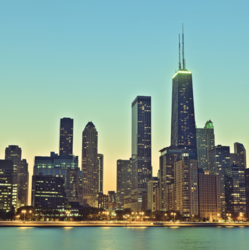 What do voters really think about the USA's water issues?
How does a major US city transform its water program?
Can the EPA's push for technology innovation deliver the triple win?
Austin, TX (PRWEB) October 29, 2012
The Summit's theme, 'Business Models for the Future' focuses on creative thinking within the current restrictive climate of limited resources and capital. Chicago's water commissioner and advisor to Mayor Emanuel's Infrastructure Trust will demonstrate how thinking bigger than hefty rate increases can succeed. The EPA's CEO speaks about its Technology Innovation Roadmap and how this new approach could achieve benefits for the environment, investors and economic growth. The Value of Water 2012, Xylem's title for its nationwide poll of US voters, unveils for the first time how residents feel impacted by water issues, what can be done about them – and who will pay.
Event: American Water Summit 2012
Venue: Intercontinental O'Hare, Chicago
Date: 14-15 November 2012
Twitter: @USAWaterSummit
Key note speakers include:

Tom Powers – Water Commissioner, City of Chicago
Water is the core element of Mayor Rahm Emanuel's high-profile plan for infrastructure, perhaps the most ambitious in the nation. As key advisor for the Infrastructure Trust Mr Powers provides insights into the city's efforts to achieve water reform.

Barbara Bennett - EPA Chief Financial Officer
The EPA's Technology Innovation Roadmap fosters greater cooperation from entrepreneurs, research communities, investors and the wider private sector. Can it deliver a triple win of environmental solutions, returns for investors and economic growth?

Gretchen McClain – President & CEO, Xylem Inc. and Dr Upmanu Lall, Director, Columbia Water Center. Xylem has chosen the American Water summit to unveil its Value of Water Index, the results of a nationwide poll detailing what American voters really think about the issues of water provision and who should pay for it. Dr Lall offers complementary research on US water rates and the demographic & physiographic factors that relate to them.
Sessions:

Selling water: Is the real problem with the water sector a marketing problem?
Business models of the future (part 1): New styles of public private partnership: What are the latest and most innovative methods of delivering capital investment to the municipal water sector?
Private sector risks in interstate and trans-boundary waters: How the use, management, and disputes over shared freshwater resources can affect business interests, private property, municipalities, and water rights.
Infrastructure finance
Industry keynote "State of the Industry": What is the outlook for the next 12 months, and the longer term?
Business models for the future (part 2): New models for utilities: What role will the internet and information technology play in the efficient water utilities of the future?
Food & Water: Balancing agricultural and municipal water needs
Mayor's panel: The panel of US mayors will discuss the ongoing financial challenges facing municipalities around the country and the impact of these financial challenges on the delivery of water and waste-water services. With: Mayor James A. Thompson, Sugar Land, TX, Mayor Mary Ann Lutz, Monrovia, CA, Mayor J. Richard Gray, Lancaster, PA, Mayor John Dickert, Racine, WI, Mayor Ken Phillipson, Islamorada, FL.
Forecast session
Round table speakers & topics:

Bill Brennan, Summit Global Management - "Different Approaches to Investing in Water."
Jeff Kightlinger, General Manager, Metropolitan Water District of S California - "The Future of Water in California."
Steve Maxwell, Managing Director, TechKNOWLEDGEy Group - "Merger and Acquisition Trends in Water."
Ben Grumbles, President of the Clean Water American Alliance - "The Future of Fracking in the US."
Greg Heitzman, President, Louisville Water Company - "The Corporatized Municipal Water Company Model."
Wade Miller, Executive Director, the WateReuse Association and Michael Markus, General Manager, Orange County Water District - "The Future of Water Reuse in the US."
Melissa Meeker, Executive Director, S Florida Water Management District - "Water Challenges in S Florida."
Jack Elliott, President, PureTech Ltd - "Addressing America's Underground Infrastructure Needs."
Dave Ullrich, Executive Director, The Great Lakes and St. Lawrence Cities Initiative - "The Six Principles of Municipal Water Sustainability."
Amanda Brock, CEO, Water Standard - "Opportunities for Water Companies in the Oil & Gas Markets."
Paul Marchetti, Executive Director of Pennvest - "New Developments in the State Revolving Fund Model."
Jay Famiglietti, Professor and Director, UC Center for Hydrologic Modeling - "How Climate Change will affect Water Availability in the US."
Kathy Shandling, Executive Director, IPWA - "Alternative Funding Tools & Structures for Water Infrastructure."
Larry Chertoff, Consultant, Environmental Market Analysis - "PPPs in the US: what works, what doesn't & why?"
Blythe Lyons, Senior Fellow, Atlantic Council Program on Energy and Environment - "The Water-Energy Nexus: Priorities for 2013."
Jorge Arroyo, Director of Innovative Water Technology Programs, The Texas Water Development Board - "New Strategies for Water Sustainability in Texas."
Joe Seliga, Partner, Global Infrastructure and Government & Global Trade, Mayer Brown LLP – "Water and Infrastructure Policy in the City of Chicago."
Harry Seely, Principal, WestWater Research – "The US Water Rights Market."
Denise Clifford, Director of the Office of Drinking Water, Washington State Department of Health - "Ready or Not: How Can Utilities Prepare for the Impact of Climate Change?"
Josh Johnson, US Senate Committee on Energy & Natural Resources - "US Senate Policy on Water & Wastewater."
Laura Shenkar, Principal, Artemis Project - "Top 10 Technology Developments & Trends in the Water Industry."
David LaFrance, Executive Director, AWWA - "Sustainability in Water Rates for Utilities."
Steve Duling, Principal Project Manager, Colorado Springs Utilities - "Effective Project Procurement: Lessons from the Southern Delivery System."
Eric S Petersen, Hawkins Delafield & Wood – "The Carlsbad Desalination Project: are we nearly there yet?"
Further Roundtables tbc
For the first time, the American Water Summit also includes the American Water Awards, acknowledging the most important achievements of the past year. The session invites short-listed candidates to make quick-fire presentations and the audience votes for the winner. The Awards ceremony itself takes place on the evening of 14th November, at the Gala Dinner, for the categories of:
1. Utility performer of the year
2. Partnership performance of the year
3. Technology project of the year
4. Environmental project of the year
There will also be a presentation of the newly created 'Growing Blue Award' (see http://www.growingblue.com) for advancing understanding of how "water is as essential to our economic and social growth as it is to sustaining our environment."
The event will attract around 350 delegates and a limited number of Press Passes are available. Please contact: Ruth Newcombe rn (at) globalwaterintel (dot) com, +44 1865 204208
*The Summit is hosted by American Water Intelligence (AWI), the established financial magazine for America's water business, providing project trackers, archives and news stories. It is headquartered at 823 Congress Ave., Ste. 1000, Austin, Texas 78701.
http://www.americanwaterintel.com