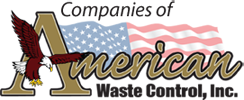 Customers can easily order Tulsa dumpster rentals for business, construction, and home use.
Tulsa, Oklahoma (PRWEB) October 26, 2012
American Waste Control (AWC), a Tulsa dumpster collection and rental company, today announced the launch of its new and improved website at http://www.americanwastecontrol.com. With the launch, customers can easily access information on AWC waste collection, disposal, and recycling services, plus, order a container online at anytime.
"Our new designed website is meant to streamline the whole browsing experience and engage our customers with helpful content," said Kenny Burkett, founder and owner of American Waste Control. "More than anything, we want to do a terrific job of sharing who we are as a company while also adding the convenience for customers to order service online."
Features of the website include a modern, sleek design and user friendliness to provide visitors with more efficient access to American Waste Control's resources. Other functions include a video and press gallery, extensive resource section, and ordering process specifically designed to help customers choose the container and service they need. With the new redesigned format, American Waste can easily update its website in the form of detailed content and bold visuals, to engage visitors and reflect the dynamic growth of the company. Customers can easily order Tulsa dumpster rentals for business, construction, and home use.
"We knew our website had to reach out to customers in the best way possible," said Tom Hill, CEO of American Waste Control. "I think we really accomplished that with the content we have. Now more than ever, we're able to engage visitors as well as help them understand the huge benefits and value of our service."
American Waste Control, which owns Tulsa Recycle and Transfer and American Environmental Landfill, currently holds the distinction of being the only fully integrated waste company in Tulsa. As the home to Oklahoma's only licensed hybrid Material Recovery Facility (Mr. Murph), AWC is able to process and reclaim over 80 tons of recyclables per day from the waste stream. The company also recently upgraded its MRF onsite with the capability of sorting out glass products and other comingled waste material.
About American Waste Control
AWC is a Tulsa-based dumpster collection company that is miles ahead of the competition in service, equipment and environmentalism. As a locally owned and family operated company, AWC has always prided itself in being able to tailor its services to its customer's individual needs while providing the best in clean and environmentally friendly operations. AWC is committed to superior efficiency in waste disposal, recycling practices, and a mission to reduce the overall impact of waste on the environment.