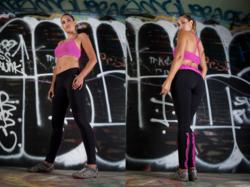 At Last Sexy Fitness Wear That is Fashionable And Comfortable
Miami Beach FL (PRWEB) October 29, 2012
Being sexy does not mean showing a lot of skin; often being less revealing can be more alluring and gives a smarter and more mature approach to the new sexiness.
Spacecat is introducing for fall and winter new bi- and tri-color sexy fitness clothing for fashion forward women.
Yumi Miyanishi, designer of Spacecat, announces her new shorts, called "Suki shorts," a smart fitness-wear version of boy shorts made with the same soft cottony feel of Supplex and Lycra mixed high-performance stretch fabric used in her Kino Solid shorts and Deepfold shorts. While small and sexy, they have good coverage in the front and back and protect against a peek-a-boo accident, while bending forward or backward, jumping up and down, running or biking. The "Suki" shorts are sexy and stylish, at the same time they are fitted and as comfortable as a second skin, and therefore it is possible to concentrate on performing better and getting stronger while looking stylish.
The new line also includes "Koko shorts," and "Qros bra." Koko shorts come in brand new color combinations with playful names like "Fruits Cup," "Aqua Trip," "I Love You," "Pool Baby," "Plum Cake," and "Nite Shade." The Qros bra is designed to compliment Koko shorts. The simple but elegant and comfortable sports bra with Coolmax lining keeps the chest area cooler and drier during exercise.
Spacecat plans for the spring of 2013:
Spacecat is planning to add an elegant bra and pants in its "Tri-color series," along with a cotton loungewear collection for the next spring season.
Designer Yumi Miyanishi of Spacecat is a dedicated practitioner of vigorous Ashtanga Yoga. She understands how women move, and with a New York City fashion background she can create well-fitting active-wear with exciting colors and a hint of style. She continues her research for a high performance textile that keeps its softness. She plans to add natural anti-microbial elements, and use recycled yarn to create a better moisture-wicking textile for the near future.
Spacecat supports local businesses. All Spacecat garments are proudly made locally where designer Yumi Miyanishi currently resides in Miami, U.S.A.
About Spacecat:
The inspiration for Spacecat began in New York City in 2000, when Yumi Miyanishi made a Claymation short film called "Katzilla." After Yumi started practicing Ashtanga Yoga, she couldn't help noticing what women were wearing. Seeing the same plain yoga and fitness wear everywhere, she thought there must be others like her who wants to dress more stylish to practice yoga or work out. With the encouragement and help of many friends, Yumi decided to use her background in fashion design to create yoga fitness wear that she would love to wear and share with her friends.
Spacecat Inc. was launched in June 2010 in Miami Beach, Florida.
The first collection was debut in May 2011.
Spacecat is an animal lover and working toward greener world.