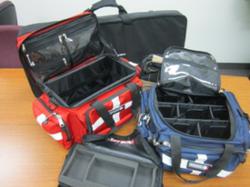 Eagan, Minnesota (PRWEB) October 27, 2012
Packnet, a custom designer and manufacturer of industrial packaging systems announces a new product offering called Soft-Side Cases. Soft-Sided Cases are durable and cost effective packaging solutions for situations where more flexibility is required. Like most of Packnet's products, soft-sided cases are custom engineered to fit the exact needs of the customer. They can be customized with foam inserts or corrugated plastic. They are available in a variety of colors and can be branded with a sewn on logo.
"We believe that this is a great solution for many hand transported products," said Dan Schultze, president of Packnet LTD. "Soft-sided cases are often easier to transport and store than a hard wall solution."
Common applications include transporting medical equipment, electronics, instrumentation, health and safety products and demo cases. Packnet offers these custom solutions in any quantity.
For more information on soft-sided cases, go to http://www.packnetltd.com.
###
Packnet is a privately owned company with headquarters in Eagan Minnesota. Packnet specializes in custom industrial packaging that includes wooden pallets, wood crating, and plastic corrugated containers as well as specialized die cutting and CNC routing.