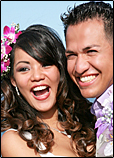 Honolulu, HI (PRWEB) October 29, 2012
Maui'd Forever is one of Hawaii's top destination wedding planner and coordinator. Most of their business comes from the US mainland from Google searches. The company strives to reach its potential clients from natural organic searches but also pays for leads using Google pay per click advertising.
To augment this advertising the company recently signed an agreement to become listed as a "Gold" member of the wedding and party directory MyPartyPlanner.com.
MyPartyPlanner.com was conceived, researched, developed and funded solely by entrepreneur, Andrew Starr. Andrew has many years of experience in the music entertainment world. He used his knowledge and years of experience to put MyPartyPlanner.com online and available for people looking for party suppliers and wedding vendors.
Since 1983, Andrew has had much success and many years of experience in the mobile DJ business (owner & operator, plus wedding, company, & school DJ); Nightclub owner (Scottsdale, AZ & Denver, CO); nightclub head DJ; Pioneering, creating and producing worldwide syndicated weekly radio programs; Managing a record label, plus other businesses. He is also known as the original owner and co-creator of Hot Mix Radio Network.
The Maui'd Forever listing was also extended to two of their sister websites, PartyPlannerUSA.com and WeddingPlanningDirectory.com. These listing let the potential wedding client know what Maui'd Forever does and where they do it. The listings also allow for the client to click directly to the website.
Maui'd Forever President Mark Steffan says of their new listings "We are going to keep track of their success or failure and let everyone know a little further down the road. The greatest numbers of wedding bookings happen right after Christmas so we can hopefully divulge results in late January.