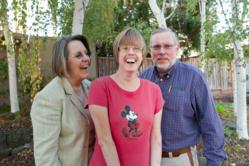 We treat patients on couches and even in their beds. There's a high demand for in-home dentistry, particularly among seniors
San Francisco, CA (PRWEB) October 30, 2012
With more than 50% of Americans who have special needs without access to dental care in the US, The Blende Dental Group is planning to remove barriers to dental care among these vulnerable populations. By individualizing treatments, special needs dentistry group in San Francisco, The Blende Dental Group can offer treatment awake, asleep or even at home. In the industry, providing dental services "At Home" (in private homes, group homes, or senior communities) is an usual and welcome relief to the seniors and those with disabilities who are homebound. There are no other options for these individuals to receive dental care. Many have not been to a dentist since they became homebound, which can range from one- to twenty years or more. The effects on oral health and therefore overall health and well-being can be devastating.
Among recognized causes of lack of access to dental care, the leading ones are: transportation, anxiety, and lack of education about the importance of dental health to overall health. Further, because dental offices are not physically suited to treat these populations, many candidates are getting turned away (Surgeon General Report, "Improving Access for Vulnerable & Underserved Populations").
For the homebound, transportation is a key issue. The Blende Dental Group addresses this by providing specialized mobile dental visits servicing a 60-mile radius around San Francisco to resolve acute dental health needs and to develop a targeted daily care routine for these patients.
While house call dentistry may seem indulgent, in most cases it is vital to the health of people who would otherwise be unable to see a dentist. These patients include those who have physical, medical, or cognitive challenges. Among seniors, house call patients include the homebound who have dementia, or those who are extremely frail or obese, for example. Additionally, house call patients include anyone with developmental delays, such as autism, because trips to the dentist or hygienist are prohibitive.
"We treat patients on couches and even in their beds," said Dr. David Blende. "There's a high demand for in-home dentistry, particularly among seniors, as 20% of those over 65 are homebound."
Adds Blende Dental Group dentist Dr. Caitlin Batchelor, "We are an unusual practice because we have the skill set to service such a diverse range of patients with special needs."
One of The Blende Dental Group's patients, Jill, is a 37-year-old female with developmental delays. Born prematurely, Jill endured numerous medical problems and is currently living at a special needs group home. While on a routine outing to a nearby day camp, Jill fell and severely injured her front teeth. Jill's mother accompanied her to her emergency visit where she was told that the only solution this organization could offer was a removable denture. Knowing this was not the best solution for Jill, her mom persisted in identifying other options. Her research eventually led her to The Blende Dental Group.
"For years dentists have been telling me how they can't help my daughter, but didn't offer another option. Finally, I found a dentist who had heard of you and referred me. You told me you can help and you did!" commented Jill's mother, a Special Education Teacher and Coordinator for Alameda County.
Jill's mother is particularly thankful that The Blende Dental Group's team works closely with her to insure her daughter's needs are taken into consideration. "They don't put you in a box as a 'parent of a person with a disability.' Instead, they work with you to do the best for your child. I have had nightmare stories, but working with them was like heaven. It wasn't just a dental success, but a success in every sense of the word. Jill's happy smile is a testimonial to that."
According to Dr. Blende, one in eight Americans lives with a severe disability that limits their mobility. In addition, U.S. Dept. of Health and Human Services research has found that about 25 percent of seniors have severe gum disease. Little wonder that the dentist's traveling practice is a welcome arrival in many homes.
For more information about The Blende Dental Group's ability to individualize treatment for their patients call (415) 563-4261 or toll free at 1-800-575-3375 during normal business hours, or call 1-877-HOUSE-07 (1-877-468-7307) for dental emergencies 7 days a week, 24 hours a day.
The office of San Francisco special needs dentist, Dr. Blende, is located at 390 Laurel Street in Presidio Heights. Visit http://www.blendedentalgroup.com/ to make an appointment and experience The Blende Dental Group's full range of services. If you are active on social media, feel free to stay in touch with their educational campaigns and events via Facebook.
About The Blende Dental Group
The Blende Dental Group is the Home of the House Call Dentists. Focusing on special needs dentistry in San Francisco, they serve both general patients and individuals with special needs, including and those with phobias or disabilities (behavioral, cognitive, medical or physical challenges). This medical-dental group has over 40 years combined experience. They are able to address a diverse range of patients by individualizing treatment, either Awake (in-office), Asleep (under general anesthesia at one of eight Bay Area hospitals where they are on staff), or At Home (in the patient's home or community anywhere within a 60-mile radius of San Francisco). The Blende Dental Group has earned its reputation as a national leader in the treatment of patients with special needs by safely and successfully completing thousands of complex cases. Their vision is to remove barriers to receiving dental care. Their mission is changing lives one smile at a time: Awake, Asleep, or At Home.
The Blende Dental Group, specializing in sedation dentistry in San Francisco has been featured in USA Today Weekend, the San Francisco Chronicle, Exceptional Parent, the Alzheimer's Association newsletter and Ability magazine, among other publications. They have also been featured on ABC 7 (KGO) News with Dr. Dean Edell, and on NBC (KNTV) San Francisco Bay Area News.