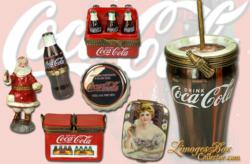 The iconic and highly collectible Rare and Out-of-Production Coca Cola Limoges boxes are a fantastic find for any Coca Cola memorabilia collector or enthusiast.
Los Angeles, California (PRWEB) October 29, 2012
LimogesBoxCollector.com is proud to announce the arrival of a newly-acquired rare and discontinued Limoges Coca Cola Collection. The highly collectible Coca Cola Limoges boxes are a part of a large collection of newly-arrived rare and retired French porcelain Limoges boxes.
Coca Cola advertising has chronicled our times and events for more than a century. Since its inception in 1886 to today, Coca-Cola has become a staple of American and worldwide culture. Coca-Cola pioneered the art of brand recognition with an almost endless variety of promotional materials. Favorite Coca Cola images have appeared on thousands of products over the years such as tin trays, clocks, calendars and coolers. Products with the Coca Cola logo have become favorite antiques and collectibles for nostalgia collectors.
The Coca Cola Limoges Box Collection includes the favorite classic Coca Cola bottle, Coca Cola 6-Pack, Cooler, Bottle Cap and the famous Coca Cola Glass. Also included in the Limoges Box collection is a Coca Cola poster, offering the refreshing beverage at fountains or bottles for a mere 5¢!
Another outstanding piece in the collection is a Limoges Box with an image of the Coca Cola Calendar Cover featuring Hilda Clark. The beautiful actress and model became famous in 1895 as the first woman to be featured on a tin Coca Cola tray. Hilda Clark remained the advertising face of Coca Cola until she got married in 1903.
From the start, the Holiday season was a great advertising opportunity for Coca Cola and through the years, numerous images of Santa Claus were used to advertise the bubbly, refreshing beverage. Coca Cola's cheerful Santa Claus is featured in the retired Limoges Box Collection, holding a bottle of Coca Cola and checking his little book for the list of Christmas present deliveries.
These rare Limoges Box collectibles are all original licensed and manufactured for The Coca-Cola Company by various artists in Limoges, France.
French Limoges boxes are among the top collectibles in the US and the term "Limoges" is widely recognized and admired. These miniature works of art are loved and collected not only for their beauty and craftsmanship but also as investment pieces.
LimogesBoxCollector.com has become a favorite and preferred source for exquisite, top-of-the-line Limoges boxes for Limoges collectors and gift buyers all across the United States. LimogesBoxCollector.com is not only known for its fantastic selection of top quality, authentic Limoges boxes, but also for its exceptional customer service and very fast shipping. Every Limoges box offered in its website is in stock and every purchase is shipped the same-day as purchase.
As the exclusive distributor for the prestigious line of Beauchamp Limoges and an authorized dealer for all Limoges brands, LimogesBoxCollector.com continually adds newly arrived Limoges boxes directly from the manufacturing artists in Limoges, France.
Limoges collectors always look for new styles and designs to enhance their collection. LimogesBoxCollector.com offers a very large selection of Limoges boxes and continually adds new and original designs by Beauchamp Limoges in various themes. Each Limoges box offered by Beauchamp is specially commissioned and crafted by master artists in Limoges, France. Collectors can find Limoges boxes in exquisite designs for every occasion, such as Birthday, New Baby, Christmas and other Holidays. Animals, Beach and Tropics, Gardening, Professions, Sewing, Buildings and Cottages, Sports, Travel are only a few categories to mention. Limoges boxes by Beauchamp Limoges are sure to capture the fancy and delight of any Limoges collector or enthusiast.
Retired, out-of-production and rare Limoges boxes are also continually added. With every visit, shoppers find a fantastic selection of new-arrivals to enhance their collection.
Among its numerous retired Limoges boxes, LimogesBoxCollector.com is proud to offer a wide selection of rare and out-of-production Walt Disney character Limoges boxes by Artoria Limoges. The Rare and Retired selection of Limoges boxes featured in the website also include Mr. Peanut, Star Wars' Queen Amidala, Barbie, Betty Boop, Jim Henson's Miss Piggy Limoges box and the famous Park Bench with Suitcase and the Box of Chocolates from the Tom Hanks' movie Forrest Gump, just to mention a few!
The history of Limoges Boxes goes back to the time of Louis XVI, when the king's finance minister, by a Royal edict, appointed the city of Limoges to be the exclusive producer of Royal Porcelain for the Kingdom of France. It is said that the first patron of porcelain boxes was the Marquis of Pompadour who presented his Lady's companions each with a gift of a Limoges box. Such presents were offered as long, narrow boxes to hold the ladies expensive needles, shapes to hold thimbles or embroidery scissors or round Limoges boxes to hold a ring, powder or snuff. Ladies and gentlemen of that era also used small Limoges boxes to exchange love notes!
Collecting Limoges boxes became the symbol of the highest distinction and fashion when Napoleon's wife, Empress Josephine, showed great interest and began a collection of her own. Soon, Limoges boxes were sought after and collected by royalties all over Europe.
Authentic Limoges boxes are highly collectible as they are made only in the Limousine region in central France. These beautifully decorated miniature boxes are made of the highest quality white porcelain found only in that region. Every Limoges box is crafted and artfully hand-painted by French artisans with vibrant colors and glaze, fired numerous times for brilliance and luster, and are finished by hand with decorative hinges to create a true masterpiece for shoppers and collectors' enjoyment.
About LimogesBoxCollector.com: LimogesBoxCollector.com is an authorized dealer and direct importer of all French Limoges lines and is the exclusive distributor and retailer of the luxurious line of Beauchamp Limoges boxes. The company is owned by Grand Dezign, Inc. and has served the US and international community for over a decade. As a direct importer and one of the largest Limoges dealers in the US, LimogesBoxCollector.com offers thousands of Limoges boxes in hundreds of styles for every taste and budget. Excellent customer service, same-day shipping and competitive pricing, has made LimogesBoxCollector.com a favorite source for French porcelain Limoges boxes.
For more information, please contact:
Customer Relations Specialists
LimogesBoxCollector.com
310-922-2899
http://www.limogesboxcollector.com