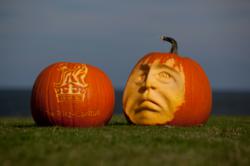 AMELIA ISLAND, FL (PRWEB) October 29, 2012
Carving a pumpkin this Halloween? Consider a spooktacular design to delight the eyes and the nose. The Ritz-Carlton, Amelia Island's Garde Manger Chef, Shane Cooprider, shares seven tips and tricks for selection, style and smell.
1. All pumpkins are not created equal. When it comes to selection, consider texture as well as shape. Traditional Jack-O-Lanterns look best with deep ribs and a round shape, while tall pumpkins help add character and personality. If you are drawing or painting directly on the pumpkin, try to find one with smoother sides to showcase your design.
2. Planning your design. Use a grease pencil or marker to outline your design and wipe away any mistakes. Look online for ideas and stencils. Many templates are free of charge and easy to transfer onto a pumpkin.
3. Creative Carving Tools. When you are ready to carve, try a mix of tools. A knife is great for big cuts, but detail work requires finesse. Try push pins, paperclips, tweezers or even knitting needles for precision.
4. Getting to the Guts. Here's the fun part - scooping out the pulp! But where to hide the access hole? Many carvers cut a lid but the hole can be placed anywhere, top or bottom. Think about display and whether you will use a light. Just be sure to keep the hole out of sight. Making a pie or collecting seeds? Remember to first have your bowls or containers ready.
5. Light your Pumpkin. Candles are traditional, but holiday lights add a colorful twist. Mix the size of the bulbs or have them blink. Just be sure the plug stays dry.
6. Is that pumpkin pie I smell? Sprinkle spices on the inside of your pumpkin to fill the air with the smells of the season. Cinnamon, Allspice or Cardamom.
7. Make your Pumpkin Last Longer. After carving, soaking the pumpkin in a mild solution of bleach and water will help slow the growth of mold and keep your pumpkin hydrated.
Here's a holiday favorite recipe from the Pastry Chefs at The Ritz-Carlton, Amelia Island.
Pumpkin Cookies
2-3/4 cups All Purpose flour
1 tsp. Baking powder
1 tsp. Baking soda
1-1/2 tsp. Ground cinnamon
1-1/4 tsp. Ground ginger
3/4 tsp. Ground nutmeg
1/8 tsp. Ground clove
1/4 tsp. Ground cardamom
1/2 tsp. Salt
3/4 cup Butter, unsalted
2-1/4 cups Brown sugar
2 each Whole eggs
1-1/2 cups Pumpkin puree
3/4 cup Whole milk
1 tsp. Vanilla extract

Cream butter and sugar
Add eggs, one at a time, scraping bowl in between each addition
Mixer on low speed, add pumpkin puree, milk and vanilla and mix until combined
Add the first 9 ingredients and mix well, scraping bowl frequently
Using a piping bag with round tip, pipe cookies on parchment lined pans so each cookie is
1-1/2 inches and 1-1/2 inches apart

Bake at 375 degrees for about 12 minutes. Cookies are cake-like and should be springy to the touch. Cool cookies
Makes about 5 dozen
Butter Browned Icing
4 cups Powdered sugar
1/4 cup Butter, browned
1/2 cup Whole milk
1/4 tsp. Vanilla extract
Cook butter until the solids turn brown and smell slightly nutty
Add butter to mixing bowl with powdered sugar and vanilla extract
Mixing on low speed, slowly add the milk, mix thoroughly
Using a spatula, spread icing on cookies. If icings too thick, add more milk 1 tsp. at a time
###