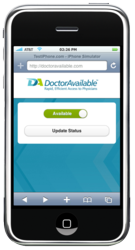 During hurricane Sandy, as patients are experiencing limited access to physicians operating through the traditional office visit structure, DoctorAvailable provides visibility and access to doctors currently available for contact …
Clifton, NJ (PRWEB) October 30, 2012
DoctorAvailable, a new online directory service with unique physician "on-off" availability, today showcased its value to patients seeking medical care during inclement weather. During hurricane Sandy, as patients are experiencing limited access to physicians operating through the traditional office visit structure, DoctorAvailable provides visibility and access to doctors currently available for contact, even prior to clinical evaluation.
For patients, logging on to http://www.doctoravailable.com provides profile information of physicians as well as those that are currently available for contact by the physician's preferred method of phone, text, email or fax. The resulting call to that available physician, for example, can lead to a prescription refill, guidance to an emergency facility, subsequent office visit or phone consultation on a fee-for-service basis. All medical services first require clinical evaluation based on the doctor's assessment by personal visit or by phone.
The new service has recently launched in the states of New Jersey and New York, with concentration in New Jersey and the New York metro area.
Medical director and founder Dr. M. Mirza stated that "We are pleased at how DoctorAvailable can increase patient access, boost physician presence online with their own personalized micro website and create an added channel for directing new patients to your office practice."
Physicians are provided the capability to remotely turn availability on and off within the DoctorAvailable site, providing doctors an ability to serve patients during off hours, augment new patient office visits and increase overall flexibility. Doctor subscription to DoctorAvailable has demonstrated additional fee-for-service revenue via credit card as well.
For physicians desiring information on how to join the DoctorAvailable network, visit http://www.doctoravailable.com/Become_a_Provider or call 1-877-267-2029.
About DoctorAvailable
DoctorAvailable was founded by M. Mirza, M.D., medical director and board certified physician whose vision of providing convenient, personalized access to quality health care is being realized today. Through DoctorAvailable, Dr. Mirza is helping individuals get the one-on-one care they need, without the wait times and bureaucratic barriers of the past.
http://www.doctoravailable.com
# # #