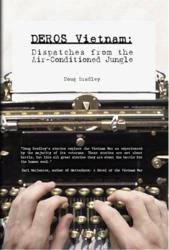 "Doug Bradley's stories explore the Vietnam War with clarity, insight, humor, and great skill."
Karl Marlantes, author of Matterhorn
Los Angeles, California (PRWEB) October 30, 2012
Like so many of his fellow Vietnam Veterans, author Doug Bradley did his time in the "combat zone" behind the convoluted fighting lines that blotted that war-wracked nation in the 1960s and 1970s. It's his rear-echelon perspective of life and times in Vietnam that enables DEROS Vietnam to provide valuable insight to the American experience in Southeast Asia. Compared to the steady diet of combat-oriented literature about the war in Vietnam, readers will find Bradley's work revelatory and entertaining.
An impressive writer who served his Army time as a military journalist, Bradley has a keen eye for detail and a wry—often dark—humor that gives his stories real bite. Along with a colorful cast of fellow soldiers also stuck "in the rear with the gear," Bradley fought his own battles with the Army bureaucracy, religiously tracking time until his Date Eligible for Return from Overseas (DEROS) and return home. His book shines welcome, and long-overdue, light on "the other war" that so many Americans waged during their time in Vietnam in support of the ill-fated combat efforts that officially ended in 1975.
"DEROS Vietnam: Dispatches from the Air-Conditioned Jungle" is a riveting collection of short stories about the GIs who battled boredom, racial tensions, the military brass, drugs, alcohol and occasionally the enemy. Doug Bradley tells these compelling stories with wit, intensity and empathy. His new book is a terrific look at a part of the Vietnam experience that has been largely ignored. David Maraniss, author of "They Marched into Sunlight," said, "these DEROS stories from Doug Bradley...are among the best I've read."
Warriors Publishing Group is dedicating to connecting readers to the best in military fiction and nonfiction. WPG is a part of Warriors, Inc., the entertainment business' premiere military advisors, with credits including Band of Brothers, Saving Private Ryan, and many more. Our books provide entertainment and insight into the missions, motivations, and mentality of the military mind.