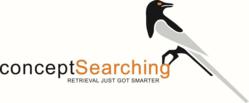 Concept Searching will have public sector clients and partners on hand, to discuss real-life scenarios on best practices and outcomes that can be achieved with Concept Searching's unique technology.
McLean, VA, US and Stevenage, UK (PRWEB) October 30, 2012
Concept Searching, a global leader in semantic metadata generation, auto-classification, and taxonomy management software, and developer of the Smart Content Framework™, will be demonstrating its experience in solutions for the public sector at the SharePoint Conference 2012, November 12th-15th, in Las Vegas, Nevada, at booth 957.
Concept Searching will have public sector clients and partners on hand, to discuss real-life scenarios on best practices and outcomes that can be achieved with Concept Searching's unique technology, built on its award winning conceptClassifier product, delivering solutions in all SharePoint environments from SharePoint 2007 through SharePoint 2013, and Office 365. Public sector clients and partners include:

The US Army - Records Management and Declassification Agency (RMDA) needed access to millions of records for research purposes, to support Post Traumatic Stress Disorder (PTSD) researchers' case research and development. The solution chosen by the RMDA comprised Concept Searching's conceptSearch, conceptClassifier and conceptTaxonomyManager, integrated with Concept Searching partner COMPU-DATA International, LLC's repository management product, DigitalAsset Finder™ (DAF). Built on top of Concept Searching's enterprise technology and the DAF product, this solution provides increased capacity for accessing large volumes of data, regardless of their network location. Read the RMDA Case Study. COMPU-DATA International's CEO, Juan Celaya will be attending the conference and available to answer any questions.
Along with integration partner Triune Group, Concept Searching has deployed conceptSearch at the NASA Safety Center (NSC), which supports the safety and mission assurance requirements of NASA's portfolio of programs and projects. Triune Group embedded Concept Searching's intelligent search application, conceptSearch, into its KnowledgeNow (KN) collaboration platform. NSC wanted to improve collaboration across the 23,000 strong workforce, improve findability, effectiveness and information sharing in a controlled and secure environment. Read the NASA Safety Center Case Study.
Concept Searching's integration partner Aeturnum brought its development and deployment experience, and Concept Searching's conceptTaxonomyManager and conceptClassifier, to HHS. This government agency deals with protecting the health of Americans, and its portal is designed to improve health outcomes by developing and disseminating evidence-based information to patients and clinicians. The integrated solution builds out taxonomies and tags and classifies content underpinning the portal, to deliver accurate, meaningful search results. Aeturnum will be on hand to answer any questions attendees might have on this and other projects.
The National Transportation Safety Board (NTSB) is an independent US federal agency charged with determining the probable cause of transportation accidents and promoting transportation safety. Working with Concept Searching integration partner InfoReliance, NTSB chose conceptClassifier for SharePoint to create taxonomies, automatically tag and classify content within its SharePoint 2010 portal, and integrate the solution with FAST Search.
The role of the US Consumer Product Safety Commission (CPSC) is protecting the public from unreasonable risks of injury or death from thousands of products in the agency's jurisdiction. Its CPSC.gov public facing website is powered by Concept Searching's search and classification suite, and demonstrates the power of Concept Searching's semantic search and classification platform, the value of Concept Searching integration partner InfoReliance's consulting experience, and why it is so important to organizations operating in the regulatory, compliance and citizen information space.
The United States Air Force Medical Service (AFMS) runs hospitals and clinics providing care to more than 2.6 million beneficiaries during both peacetime and wartime. With a requirement to effectively deal with a significant amount of information, the AFMS no longer wanted to rely on manual, disparate and resource intensive processes. Concept Searching deployed conceptClassifier and conceptTaxonomyManager to provide information retrieval, effective information management and automatic document classification, delivered in an integrated, scalable and robust solution. Read the AFMS Case Study. A member of the AFMS will be at the conference to answer any questions.
The Development, Concepts and Doctrine Centre (DCDC), a Ministry of Defence (MOD) think-tank in the UK, is using Concept Searching's conceptSearch engine and Web-Labs' services and software to manage an archive of military and historical documents, images and recordings. The DCDC is required to provide research and support decisions in operational and strategic military activity. Concept Searching's conceptSearch delivered the unique industry ability to automatically generate semantic metadata through concept extraction, significantly improving search results. Read the DCDC Case Study.
Find details about these and more industry solutions and organizations in the Public Sector Overview and Public Sector Clients brochures.
And last, but not least, Concept Searching is a proud sponsor of the 'SharePoint City' Party, to be hosted by Axceler exclusively for attendees at the SharePoint 2012 Conference, on November 14th in Las Vegas. Excited to be a part of this community experience, the Concept Searching team looks forward to seeing its friends, customers and partners at what promises to be a spectacular event. Space is limited so attendees should register now to be part of this SharePoint experience.
Follow Concept Searching: http://www.twitter.com/conceptsearch
About Concept Searching
Founded in 2002, Concept Searching provides software products that deliver conceptual metadata generation, auto-classification, and powerful taxonomy management from the desktop to the enterprise. Concept Searching, developer of the Smart Content Framework™, provides organizations with a method to mitigate risk, automate processes, manage information, protect privacy, and address compliance issues. This infrastructure framework utilizes a set of technologies that encompasses the entire portfolio of unstructured information assets, resulting in increased organizational performance and agility.
Concept Searching is the only platform independent statistical metadata generation and classification software company in the world that uses concept extraction and compound term processing to significantly improve access to unstructured information. The Concept Searching Microsoft suite of technologies runs natively in SharePoint 2007, SharePoint 2010, SharePoint 2013, FAST, Windows Server 2008 R2 FCI, Office 365, and in Microsoft Office applications.
The building blocks of Concept Searching's Smart Content Framework™ are being used by organizations from a diverse number of industries including the US Army, the US Air Force, the UK MOD, Baker Hughes, DAI, Deloitte, Logica, NASA Safety Center, OppenheimerFunds, Point B, Perkins+Will, Parsons Brinckerhoff, Burns & McDonnell, MarketResearch.com, the US Department of Health & Human Services, Transport for London, the London Fire Brigade, the National Transportation Safety Board, and Xerox.
Headquartered in the US with offices in the UK, South Africa and Canada, Concept Searching solves the problem of finding, organizing, and managing information capital far beyond search and retrieval. The technologies are being used to improve search outcomes, enable effective records management, identify and secure sensitive information, improve governance and compliance, add structure to Enterprise 2.0, facilitate eDiscovery, and drive intelligent migration. For more information about Concept Searching's solutions and technologies please visit http://www.conceptsearching.com.
All product and company names herein may be trademarks of their respective owners.