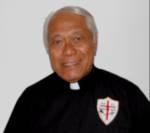 Hilo, Hawaii (PRWEB) October 31, 2012
Maui'd Forever is one of Hawaii's few full service, all-Hawaiian Islands wedding planner and coordinator. Founded in 2003 by entrepreneur Mark Steffan, the company operates on the Hawaiian Islands of Oahu, Maui, Kauai and the Big Island of Hawaii. They use over 150 different wedding vendors and still find the need to add additional members to their team.
They are happy to announce their newest member on the Island of Hawaii, David Heaukulani. Rev. David Heaukulani, PhD, DD is the senior pastor of the Mamalahoa Christian Ministry. Born on the Big island of Hawaii, Rev. Dave hails from ancestral roots that are traced to generals in the army of the famous Hawaiian King Kamehameha. He is a practicing Hawaiian kahuna.
Rev. Dave is most noted on the Big Island for spiritual warfare where he is called upon to assist in supernatural incidents surrounding persons and places. A book he wrote titled The Reficul Parallax is a fiction that taps into his supernatural experiences in the islands and his ministry.
Rev. Dave does a unique wedding ceremony where he sings the Hawaiian Wedding song in Hawaiian for the couple before the ceremony. A liberal minister, Rev. Dave will also officiate same sex civil unions which are legal in Hawaii.
Mr. Steffan comments "that Rev. Dave is someone special in Hawaii. Most of our Hawaiian ministers do not believe in performing ceremonies for same sex couples. Rev. Dave does and really goes to extremes to please all of our clients. So much so he helped create in Hawaiian a custom ceremony for one of our clients that was enthusiastic towards the Hawaiian culture."
The big Island of Hawaii is not nicknamed the "Big Island of Hawaii" for nothing. The distances between the top Hawaii cities of Hilo and Kona are 2-5 hours drive time. The Rev. Dave will consider doing weddings on just about any spot on the Big Island as long as it fits in his schedule.
The Reverend is available with all the wedding packages Maui'd Forever offers. Please check with them to see if Rev. Dave is available for your Hawaii Destination Wedding, vow renewal or civil union.