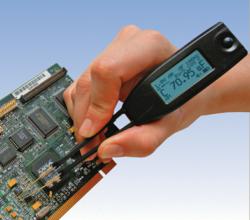 Smart Tweezers automatically remove offset allowing to measure small capacitance and resistance of 1 picofarad and 1 milliohm range.
Taipei, Taiwan (PRWEB) October 31, 2012
Newly released web site for Smart Tweezers LCR-meter presented by Siborg Systems Inc. introduces new instructional materials and useful user tips for the new model of a popular electronic LCR-meter in Chinese.
Smart Tweezers LCR-meter manufactured in Canada is getting lately more and more popular in Taiwan, well known hub for electronics assembly. This fully-automatic digital LCR-meter makes highly accurate measurements by just touching any electrical component, for etither inductance (L), capacitance (C) or resistance (R).
Smart Tweezers allow to automatically remove offset when measuring resistance or capacitance thus allowing to measure very small capacitance and resistance of 1 picofarad and 1 milliohm range.
Unlike its recent clones, the original Smart Tweezers LCR-meter can measure not only resistance and capacitance but also inductance of a fraction of microhenry, making it an indispensable tool for use in radio electronics.
"This web site will give our clients a better feeling of what this remarkable device would allow them to do," says Michael Obrecht, Director at Siborg Systems Inc. "Light weight and small size makes Smart Tweezers extremely useful for any kind of PCB work. It is very important that Smart Tweezers is very user-friendly and intuitive. It virtually can be used without reading the Manual, it is almost fully automatic and gives you value of a component, whether it is L, C or R immediately when it is connected with the tweezer tips."
Siborg Systems Inc. currently offers Introductory Sale Price for Smart Tweezers™ ST5.
Here is a summary of the new model features:
-Automatic LCR, and Equivalent Series Resistance (ESR) measurements
-Basic accuracy of 0.2%
-Li-Ion Battery, USB Charger
-Diode and Continuity test
-Adjustable Test Signal
-Component Sorting with 1%, 5%, 10% and 20% Tolerance
-Semi-automatic Offset Subtraction
-Ideal for small components, as small as 0201 size (about 0.3 mm)
-Displays active and reactive impedance components
-Just 2 Oz weight and ergonomic design
-Long battery life
About Siborg Systems Inc:
Established in 1994, Siborg Systems Inc. is a source of engineering software and hardware tools for semiconductor and electronics industry. Located in the city of Waterloo, Ontario, Canada, it enjoys being part of the local world-renowned high-tech community.
For more information please contact our distributors in Taiwan:
Ascentex Industry Corp.
7F, No 516, Sec. 1, Nei Hu Road, Taipei 114, Taiwan, R.O.C.
Tel:+886-2-8797-8788 Fax:+886-2-8797-8789
Sales: Eagle (at) ascentex (dot) com (dot) tw
Service:Richard (at) ascentex (dot) com (dot) tw
PLeader-YAMAICHI Co., Ltd.
No.16, JinShui Street, Hsin Chu, Taiwan, R.O.C.
Tel. :03-5302300 Fax.: 03-5305156
kp (at) PLYamaichi (dot) com (dot) tw
Chen Bom Trading Co., Ltd
6F-1, 212, Ta Tung Rd., Sec. 3, Hsichih City, New Taipei City 22148 Taiwan, Republic Of China
Phone Number: 886-2-86472988 Fax Number: 886-2-86472977
sales (at) cbtrade (dot) com (dot) tw