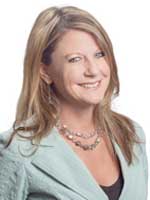 Hiring Joanna was an easy decision due to her extensive knowledge of Austin homes.
Austin, TX (PRWEB) October 31, 2012
Despite the historic trend of home sales dropping off during the cooler months, the Austin real estate market has continued to thrive throughout October. And while the average number of homes sold per month may drop slightly over the next few months, Austin real estate remains a hot commodity. To meet the steadily growing demands for Austin homes for sale, in September 2012 Reilly Realtors began seeking out experienced agents to join their organization. Therefore, Reilly Realtors is pleased to announce that Joanna Jennings is now the first of many new agents that the brokerage expects to recruit.
"Hiring Joanna was an easy decision due to her extensive knowledge of Austin homes, both from a real estate perspective and as one who grew up in the city," says managing broker Michael Reilly.
First moving to the city in 1974, Joanna is a long time Austin resident. After moving here, she graduated from Austin's West Lake High School and went on to earn a college degree from the University of Texas. Joanna then began her career in real estate. Over time, she has acquired 19 years of experience in the real estate industry and over 15 years of lending experience. Furthermore, she also boasts an impressive 25 years in construction, as well as consulting work in many facets of real estate, including lending, tax, title and appraisal. She also has an extensive background in investments, commercial and residential properties, financing, broker price opinions and training.
Joanna is able to serve her clients better than her competitors thanks to her real estate partner, Debra Flynn. Learning the ins and outs of real estate from Joanna, Debra has an enthusiasm for all things Austin- especially real estate. Through their partnership, Debra and Joanna make the entire real estate process much more enjoyable for their clients, as customers benefit from having multiple professional agents meet their needs.
In addition to assisting clients with their real estate dreams, Joanna and Debra enjoy spending time with their families. They also have their favorite communities. Joanna has an affinity for the communities of Seven Oaks, Spanish Oaks, Costa Bella, Westlake and Barton Creek Lakeside. Debra, on the other hand, has an enthusiasm for and a broad base of knowledge of West Austin homes.
So given their track records in the real estate business, why did the team decide to join Reilly Realtors? In short, they know that the competitive brokerage will provide them with the tools and advantages that will allow them to further raise their level of customer satisfaction.
"We provide our agents with real leads from our popular website," explains Reilly. "This, in addition to our generous commission splits and proven marketing system, makes our business model very attractive to agents who are motivated to take their business to the next level."
About Reilly Realtors, LLC
Reilly Realtors, LLC was formed in 2006 by Michael and Shae Reilly, and focuses primarily on residential home sales in Austin and the surrounding areas. The brokerage is made up of 15 top producing agents with an average of 5 years experience and is on track to close $60,000,000 in residential sales for 2012. Reilly REALTORS operates the extremely popular website AustinHomeListings.com, which allows the public to search virtually all Austin homes for sale with an easy to use map-based interface using data from the Austin MLS. For more information about Reilly Realtors, call 512-600-1800 or visit us online at http://www.reillyrealtors.com.
Michael Reilly, Owner
Reilly Realtors
512-600-1800