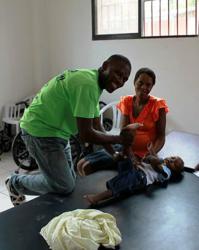 We can continue to provide much needed healing services in Haiti because of companies like Evidence In Motion.
Louisville, KY (PRWEB) October 31, 2012
Evidence In Motion (EIM) is proud to announce their continued support of Neighborhood Engagement's relief efforts in Haiti. Neighborhood Engagement is a non-profit group that supports PTHelpForHaiti.org and OTHelpForHaiti.org. Both organizations are dedicated to "Build Haiti Better" and send volunteer physical and occupational therapists to Jacmel, Haiti.
EIM has provided monetary donations to Neighborhood Engagement since 2009 on behalf of each student who joins their Orthopaedic Physical Therapy Residency, Sports Physical Therapy Residency, and Orthopaedic Manual Physical Therapy Fellowship. EIM's recent donation was made on October 10, 2012 to help fund PTHelpForHaiti.org/OTHelpForHaiti.org's physical and occupational therapists in Jacmel, Haiti.
The Jacmel Clinic sees an average of twenty-five to forty patients per day and provides a full spectrum of physical therapy services. This clinic is staffed by a full-time American physical therapist, Haitian rehab technicians, transporters and interpreters, and volunteers from both the United States and Canada. The Jacmel Clinic does not charge for equipment or treatment and is 100% donor supported.
"We can continue to provide much needed healing services in Haiti because of companies like Evidence In Motion," states Larry Benz, PT, DPT, MBA, OCS, founder and partner of the Jacmel Clinic. "Their continued monetary support helps the clinic keep its doors open to the community; providing rehab services and hope to an area devastated by natural disasters."
About Evidence In Motion (EIM):
Evidence in Motion (EIM) is an education and consultation company whose sole reason of existence is to elevate the physical therapy profession and the role of physical therapists in healthcare delivery. A strong dedication to fostering the creation and assimilation of an evidence-based practice culture within the physical therapy profession is a cornerstone of EIM's mission. The EIM Team has implemented evidence-based practice treatment pathways in many facilities and aims to promote the global sharing of information and ideas, thus advancing evidence-based physical therapy practice, research and education around the world. EIM offers Continuing Education, Certification Tracks, Residencies, a Fellowship Program, a Musculoskeletal Transition DPT, and an Executive Program in Private Practice Management with optional Transition DPT. For more information, please visit EvidenceInMotion.com. You can also find EIM on Facebook and Twitter, @EIMTeam.