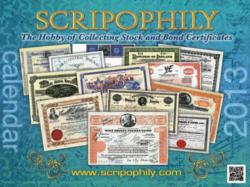 This is our Best Calendar ever!
Fairfax, Virginia (PRWEB) October 31, 2012
Scripophily.com®, the Internet's largest buyer and seller of collectible stock and bond certificates, is offering a Free Historic Stock Calendar with all orders and a Free Fannie Mae Stock Certificate with all orders over $200.
Scripophily (scrip-ah-fil-ly) is the hobby's name of collecting old stock and bond certificates. Values range from a few dollars to more than $100,000 for the rarest. There are tens of thousands of Scripophily buyers worldwide include casual collectors, corporate archives, museums and serious collectors.
This year's calendar was prepared with collaboration with the Museum of American Finance, an affiliate of the Smithsonian Institute. "We are especially proud of this year's layout, content diversity and color selections." according to Bob Kerstein. Founder and CEO of Scripophily.com . "Each certificate was hand selected for this calendar based on its artwork and historical significance." Kerstein added.
This year's calendar includes certificates from:
Merrill Lynch, Pierce, Fenner & Smith, Alaska Central Railway Company, Ferris Wheel at Columbian World's Fair Exposition Chicago 1893, Republic of Ireland with Eamon de Valera as President Ireland, Confederate States of America Jefferson Davis $1,000 Bond Montgomery 1861, Ford Motor Car Company of Canada signed by Henry Ford Ontario, Canada 1908, Universal Aerial Navigation Co. Arizona 1911, Uncle Sam Mining and Milling Company Colorado 1899, Victor Talking Machine Company New Jersey 1927, World Wrestling Federation Entertainment, Inc., Charlotte Motor Speedway, Inc. Hand signed by NASCAR Legend, Curtis Turner - 1959, Gold Glen Mining Milling and Tunnelling Company Clear Creek, Colorado 1908, Walt Disney Productions hand signed by 12 of the Original Mouseketeers California 1974, and a Panama Canal Founders Share.
You can see a low resolution PDF file of the 2013 Calendar at http://www.stockcalendar.com/2013Calendar.pdf
Fannie Mae is the Federal National Mortgage Association and was founded in 1938 during the Great Depression as part of the New Deal. It is a government-sponsored enterprise (GSE), though it has been a publicly traded company since 1968. The corporation's purpose is to expand the secondary mortgage market by securitizing mortgages in the form of mortgage-backed securities (MBS), allowing lenders to reinvest their assets into more lending and in effect increasing the number of lenders in the mortgage market by reducing the reliance on thrifts.
Scripophily.com - The Gift of History, headquartered in Fairfax, Virginia, is the Internet's leading buyer and seller of collectible stock and bond certificates, old company stock and bond research services, and autographs. We offer over 17,500 selections on our website and have items on loan for display in the Smithsonian's Museum of Financial History in New York. The company has been featured on CNBC, USA Today, Associated Press, Reuters, Nightline, Today Show, Baltimore Sun, and Washington Post and in many other media publications. The company operates its old stock and bond research service at OldCompany.com.
Scripophily.com's Old Company Research Service, is the successor company to all material published by the Marvyn Scudders Manuals, the Robert D. Fisher Manuals, and Herzog & Co., Inc. (John Herzog) obsolete research services, which has performed old stock and bond research services continuously since 1880.
Scripophily.com was founded by Internet Pioneer and Stock Certificate Expert, Bob Kerstein (Bob.com). Bob is a CPA and CGMA, and has more than 36 years of senior management experience in the Cellular, Cable TV, Satellite, Internet, Professional Sports and Entertainment Industries. Bob is also the President of the Professional Scripophily Traders Association (PSTA) and a member of the American Institute of Certified Public Accountants, California Society of CPA's and the Virginia Society of CPA's. Scripophily.com has an A+ Rating with the Better Business Bureau.
For more information on Scripophily.com®, visit http://www.scripophily.com, http://www.scripophily.net, http://www.oldcompany.com, http://www.bob.com or call 1-703-787-3552.
Contact: Media Relations, Scripophily.com
Tel: 703-787-3552; e-mail: mediarelations(at)scripophily.com