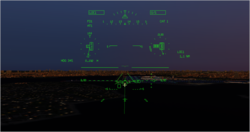 "The flight simulation community now has the chance to fly the real thing from their PC and MAC,"
(PRWEB) October 31, 2012
Emerging from the secrecy of our Electronic Hanger where they have been crafting a new era in Head Up Displays, FlyRealHUDs.com unveiled with Jetcraft Avionics a new era in HUD simulators today. Jetcraft and FlyRealHUDs.com wowed visitors at the NBAA, all part of the creative demonstrations of the new HUD simulators as part of the Jetcraft "HUD Vision Access program". "HUD Vision Access" combines Kollsman's EVS-II and AT-HUD giving pilots greater-detail images through rain, snow, smog and even heavy fog – with a level of detail and contrast never before achieved. The two systems combine to form the world's most advanced EFVS solution all from a single OEM. Jetcraft has the only HUD and Enhanced Vision aftermarket program for corporate and air transport aircraft.
Billed as the Future of Low Visibility operations, Jetcraft is including FlyRealHUDs.com HUD simulators as part of its 2012 NBAA "HUD Vision Access" promotional campaign. Visitors are seeing video demonstrations and briefings of the Jetcraft program and the new HUD simulators running on X-Plane 9 and 10.
FlyRealHUDs.com was seen by pilots in the corporate aircraft world, and the visitor roster included test pilots from several OEMS, that gave enthusiastic approval of the new HUD simulator. The FlyRealHUDs.com products provide full fidelity HUD simulators that support all phases of flight, instrument approaches and Enhanced Vision modes. The HUDs include capability for CATIII operations, Takeoff Go-Around (TOGA) and Upset Recovery Modes. Working in concert with the X-Plane aircraft of your choice, the HUD supports all of the typical modes of operation with the simulated avionics and navigation systems. Using VMC or IMC modes, pilots can make approaches into the most challenging of airports with the skill and performance of a seasoned aviator. The HUD models demonstrated include a Bizjet HUD and AirTransport HUD with full capability – providing the tools to learn how these new flight deck systems operate.
"The flight simulation community now has the chance to fly the real thing from their PC and MAC," said Ken Elliot, Vice President of Avionic Systems. "The FlyRealHUDs.com HUD simulators enable customers to learn the functions of Bizjet HUDs right on their computer. This provides a major savings cost savings compared to actual aircraft time".
FlyRealHUDs.com is a company of aviation enthusiasts that love the art of creating and applying new technology in places most are afraid to go. Challenging the conventions of today's flight simulation markets, FlyRealHUDs.com believes you can fly the real thing. Inquiries about FlyRealHUDs.com can be made via their website.