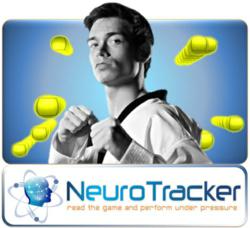 Taekwondo is a very fast sport so you have to be totally aware, one lapse and it could be game over
Alexandria, VA (PRWEB) October 31, 2012
Gaining eye contact, tracking hand and foot movements, following slight shifts in balance and reacting within hundredths of a second, Aaron Cook now trains to maintain 100% of his attention on staying one step ahead of his opponent. As a sport that embodies lightning fast reactions and even quicker thinking, Taekwondo pushes the boundaries of human performance in perception and attention, skills that Cook believes he has heightened through extensive NeuroTracker training.
Despite a highly controversial omission from the Great Britain squad for the London Olympics, 2012 saw Cook dominate the world rankings with an impressive string of victories in international competitions, becoming world number one in his weight class.
NeuroTracker has been a fundamental part of his training, using 3D multiple object tracking to maximize his visual attention and ability to read body movements. "Taekwondo is a very fast sport so you have to be totally aware," says the world No.1, "a single lapse and it could be game over".
Cook's training program has yielded some of the highest scores ever logged on NeuroTracker, which is used by leading teams across the NFL, NHL and EPL. Cook also uses NeuroTracker to build up cognitive resistance against fatigue, "It works well as part of my performance circuit, really letting me see how my concentration holds throughout exhaustion".
Former Manchester United coach Mike Clegg introduced him to NeuroTracker and the benefits of mental conditioning that he has used previously with professional soccer players, "Without doubt Aaron has improved his concentration skills and peripheral awareness from this approach, his 8 recent gold medals have been superb performances".
Now an essential ingredient of his training program, Cook has set up a NeuroTracker Pro 3DTV training station at Remarck Sport in Virginia so he maintain his game-shape while training in the US.
"It's simply a vital tool for me now. It's helped me see things quicker, process information faster and sustain my attention for longer, and this is what gives me the edge over my rivals".
About CogniSens Athletics:
CogniSens Athletics develops, in partnership with the University of Montreal, cutting-edge training technologies for boosting mental performance in sports. Their flagship product is NeuroTracker: a cognitive measurement and training device that improves attention, focus and decision-making on the field. Players who train with NeuroTracker can process visual information more quickly, can read body movements more effectively, and have improved mental resistance to fatigue. To learn more, visit http://www.neurotracker.net.