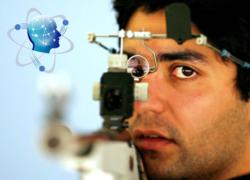 …honing in on a target smaller than the size of a period on a newspaper at 10m away – just one irregular heartbeat could ruin a shot
Zirakpur, Punjab, India (PRWEB) October 31, 2012
Claiming the 10m Air Rifle gold medal in Beijing 2008, Abhinav Bindra became India's first ever individual Olympic gold medallist as well as a modern sports legend for 1.2 billion countrymen. The 2012 games came with an immense amount of pressure and, leaving London without a medal, Bindra decided to train with NeuroTracker as way to bolster his concentration where it matters most.
NeuroTracker has been adopted at the highest echelons the NFL, NHL and EPL, for these fast dynamic team sports, training multiple object tracking skills helps players read the game and process decision-making information quicker. In contrast, the benefits Bindra is seeking are all about quality of attention – something the cognitive technology is scientifically designed to measure and improve.
Elite shooters have to operate at the absolute thresholds of human sensory performance, dealing with some of the smallest known margins of error. In Bindra's event he hones in on a target smaller than the size of a period on a newspaper at 10m away – just one irregular heartbeat could ruin a shot. This pinpoint accuracy demands an extreme state of mental and physical focus, which must applied repeatedly under time pressure. To win a big competition almost every shot fired has to land perfectly sixty times in a row. Bindra's aim is to attain this level of performance on demand, regardless of pressures or distractions.
Since acquiring a training system Bindra's cognitive regime has included four NeuroTracker sessions a day. On top of standard sessions he combines the postural demands of a rifle stance while tracking and also incorporates biofeedback measurements. Eager to utilize his honed attentional skills in his next competition, Bindra stated "I'm very pleased with the training. I know NeuroTracker has improved my attention, concentration and mental focus in a way that allows me to get into the zone when I need to".
CogniSens Athletics, the makers of NeuroTracker, are working with Bindra to customize some of the system's training parameters for the specific performance demands of shooting. CEO Jean Castonguay said, "We are delighted to see Abhinav use NeuroTracker for this sport, we see an excellent match between the refined skills of shooting and the scientific basis of our product."
About CogniSens Athletics:
CogniSens Athletics develops, in partnership with the University of Montreal, cutting-edge training technologies for boosting mental performance in sports. Their flagship product is NeuroTracker: a cognitive measurement and training device that improves attention, focus and decision-making on the field. Players who train with NeuroTracker can process visual information more quickly, can read body movements more effectively, and have improved mental resistance to fatigue. To learn more, visit http://www.neurotracker.net.