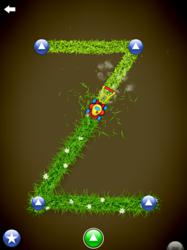 Amsterdam, The Netherlands (PRWEB) October 31, 2012
A recent analysis of ratings across App Stores in several countries shows that over 90 percent of LetterSchool users award the app four or five stars. The vast majority of users also speak highly of LetterSchool in their reviews. This trend is most clearly visible in the United States, Canada, the United Kingdom, Australia, Sweden and the Netherlands.
The handwriting app has already been introduced into many homes, schools and therapy practices all over the world. User feedback confirms that LetterSchool lets kids have fun while they practice the complex skills of handwriting. The method's educational value is strongly appreciated by parents, teachers and therapists. Many of them write that LetterSchool's wide variety of games captures the attention and keeps players practicing their letters and numbers, over and over again. The continuous highly positive response from parents and teachers underscores LetterSchool's important role as an innovator in handwriting instruction. By spending $2.99 on LetterSchool, schools not only save money on expensive handwriting methods and software, but also on precious teaching time. A list of the app's awards and experts' reviews is available at LetterSchool.com.
LetterSchool competes with advanced mobile games, boasting high-quality graphics, effects and animations at a level rarely seen in apps for young children. In order to make LetterSchool a rock-solid piece of software, the makers didn't just rely on their own experience in education, software development and computer graphics—little experts tested the app thoroughly. LetterSchool is a universal application for the iPad, iPhone and iPod touch.
Install the free lite version of LetterSchool which will allow you to reach the gold level and test-drive the free-form writing game more quickly. Reporters can also request a promotional code for the full version. Feel free to ask for our media kit containing high-resolution artwork on the contact page of our website.
LINKS
LetterSchool website:
http://letterschool.com/
LetterSchool video:
http://youtu.be/4sDZqBMqG-4
iTunes, LetterSchool:
http://itunes.apple.com/us/app/letterschool/id435476174?mt=8
iTunes, LetterSchool Lite:
http://itunes.apple.com/us/app/letterschool-lite/id481067676?mt=8
Overview of awards and reviews:
http://letterschool.com/reviews.html