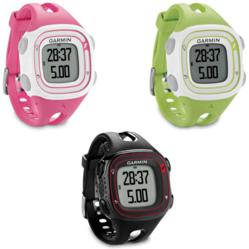 Over its competition, like the Timex Marathon it adds download capabilities, maps, the Pacing feature, Run/Walk and an Auto Pause, so it is definitely better featured
Bozeman, MT (PRWEB) October 31, 2012
Garmin Forerunner 10 has been named the best walking GPS watch for 2012 by the Heart Rate Watch Company.
"We like that it gets pace, distance and has the capability to do miles per hour cycling, plus it downloads maps and data to Garmin Connect", says Rusty Squire, President of the Heart Rate Watch Company. He adds, "Plus it has Virtual Pacer and is water resistant to 50 meters, unlike many other Garmin GPS watches".
Garmin 10 is the least expensive Garmin GPS watch and, even though it is not aimed at those desiring heart rate, it does receive good mapping, distance and pacing data. "Over its competition, like the Timex Marathon it adds download capabilities, maps, the Pacing feature, Run/Walk and an Auto Pause, so it is definitely better featured", says Squire.
The Garmin Forerunner 10 also comes in several fun colors - pink and lime green for women, along with black and red for men.
"Walking and hiking are without question the two most popular exercise activities on the planet", says Squire, adding, "It stands to reason that a watch like this will have a very broad appeal and because it also can get speed in miles per hour for cycling it further broadens that appeal".
Forerunner 10 is for the more casual athlete, as is the Timex Marathon but for 2012, of all the watches in this category, including the Soleus, Heart Rate Watch Company testers have decided that they like the Garmin 10 the best.