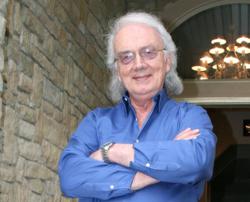 As a talk show host, noted food expert and co-founder of eFoodsDirect, Steve Shenk is pleased to announce his new book It's Not Your Fault is available in Novmeber for pre-launch review.
Salt Lake City, UT (PRWEB) October 31, 2012
Steve Shenk, food expert and founder of the eFoodsDirect gourmet storable food company, today announced that his new book, It's Not Your Fault, will be available for pre- launch book review on November 30th.
During his 30 years building the storable food industry, author Steve Shenk met hundreds of people who shared their struggles and triumphs. As a result, he came to understand much about the human experience. Steve realized that after the basic need of food is met in every person's life, there is an opportunity to go further and even reach magnificence. His new book, It's Not Your Fault, which will be officially released January 29th, is a compilation of his years of experience with people, families, and relationships.
As a voice of reason on matters of food, energy, and money, Steve uniquely understands the forces that perpetuate the world's food dependencies. His mission is to heighten the public's awareness and offer possible courses of action to ensure food availability and freeze pricing to bring more security to an at-risk world. Steve is the host of "It's Not Your Fault," a new Tuesday show that is syndicated to terrestrial and online stations, including UStream, Facebook, and the ROKU TV box, and is presently heard almost any day of the week across multiple radio networks as a guest of some of America's most notable talk shows.
Weekly show content ranges in topics including "The Riddle of Me," "I like me best when I'm with you," "Move over Cassanova and Don Juan . . . Here comes Bob," "Steve Shenk-isms" and "Distance is Disaster." A fan favorite featured on Steve's show is "Ask Steve," a section that delves into caller issues and shares suggestions and advice.
As a talk show host, author, and noted food expert, Steve Shenk is an educator, corporate executive, philosopher, and a thirty-year entrepreneur in the food industry. His expertise and leadership on food safety issues have positively impacted the lives of thousands with a prevention-based strategy to ensure the availability, price, and safety of food.
Steve works closely and collaboratively with some of the world's most knowledgeable experts, preparing and educating the general public on topics ranging from assessment of current food program challenges to how the history of money has come full circle to make food the most important currency. Steve Shenk and his partner, Barbara Rossberg, are co-founders of several food companies including eFoodsDirect. You can find him on Facebook at steveshenkfoodexpert or itsnotyourfaulttalkshow on his blog at http://www.steveshenk.me.
About Steve Shenk:
Steve Shenk is a philosopher, educator, noted food expert, and 30-year entrepreneur. As a voice of reason on matters of relationships, happiness and prosperity, Steve's book, It's Not Your Fault, delves into his philosophies of life and relationships. It's Not Your Fault was written to share the secrets to finding the magnificence within each of us. The book is discussed on his weekly radio/Internet TV talk show of the same name. He is also a frequent guest of some of America's favorite talk show programs. http://www.steveshenk.me.
About eFoodsDirect:
Founded by nationally known food-reserve experts Steve Shenk and Barbara Rossberg, each with over thirty years of quality food experience, the company's goal is to help all American families have delicious, easy-to-fix, healthy, affordable, storable food insurance from eFoods Direct. eFoodsDirect is the only company to offer affordable "Serve Today and Store for Tomorrow" Family Food Security Packs. Options include delicious meal assortments of affordable one-month, three-month, six-month, and one-year Family Food Security Packs on the eFoodsDirect Website at http://www.efoodsdirect.com.