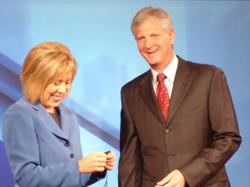 "Our Brilliant Communications marketing strategy exponentially increases response rates and results." - Tom Flottman
Cincinnati, Ohio - Northern Kentucky (PRWEB) October 31, 2012
Tom Flottman, Flottman Company CEO to be featured on WNKU's BusinessWise program.
What: Crystal Faulkner of Cooney, Faulkner and Stevens will interview Tom Flottman CEO of the Flottman Company about the recent successes of the company, a discussion on what Brilliant Communications is and where the company and the industry plans to be in ten years.
Who: Tom Flottman, CEO of the Flottman Company, a 91 year old graphics communication firm specializing in marketing and design solutions, 1:1 personalized marketing, miniature folding and printing expertise.
Why: Celebration of Flottman Company's 91st year in business and promotion of Flottman's Brilliant Communications Marketing Strategy that uses personalized multi-channel communications to exponentially increase response rates and success.
Who Should Listen: Business professionals that are challenged with lead generation, have a desire to increase sales and want to improve client loyalty.
When: 5:45 pm, Thursday, November 8 and 5:45 pm, Friday, November 9
Where: WNKU-FM airs BusinessWise on 89.7, 105.9 & 104.1 (Cincinnati, OH – Northern Kentucky)
Listen via the internet at http://www.WNKU.org
Media Contact:
Ed McMasters
Director of Marketing & Communications
Flottman Company, Inc
Cell: 513.470.9461
Office: 859.331.6636 x221
Email: emcmasters(at)flottmanco(dot)com