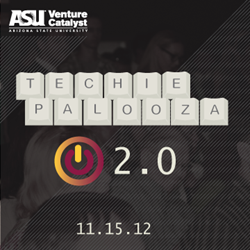 On Thursday night, November 15, hundreds of techies, developers, entrepreneurs and business experts and mentors will descend on ASU SkySong for an evening of workshops, conversations with major players in the startup space, and networking.
Scottsdale, AZ (PRWEB) October 31, 2012
On Thursday night, November 15, hundreds of techies, developers, entrepreneurs and business experts and mentors will descend on ASU SkySong for an evening of workshops, conversations with major players in the startup space, building startup infrastructure and networking. ASU Venture Catalyst is bringing Techiepalooza 2.0 (TP 2.0) to the Phoenix startup community on the heels of Techiepalooza's (TP) successful first event. Held in June 2012, TP drew more than 500 people to the ASU SkySong facility and, with the announcement of two of TP 2.0's main speakers, the event is on track to be even more successful this time.
Founder and CEO of Recruiting.com (formerly Jobing.com), Aaron Matos, has been announced as one of TP 2.0's keynote speakers. Matos founded Jobing.com in 2001 and led the company through several new market start-ups and strategic acquisitions. In 2010, Matos added Recruiting.com to the organization's acquisition history from which he developed a full line of Software-as-a-Service recruitment solutions. The company name officially changed to Recruiting.com in 2012 to signify the expansion as a provider of cloud-based recruiting solutions and job board network.
Joining Matos on the TP 2.0 agenda will be Rahul Sood, General Manager of the Bing Fund, Microsoft's new angel fund and incubator program. Sood will lead a funding panel composed of Venture Capital firms and companies that have been funded who will share their unique perspectives on each side of the funding equation. Sood is the founder of VooDooPC, the small Canadian maker of super-tricked-out gaming PCs, which he sold to Hewlett-Packard, where he stayed on at HP as CTO of global gaming. Microsoft selected Sood to be the General Manager of the Bing Fund, which plans to offer U.S.-based early-stage companies an opportunity to work at a Microsoft building in Bellevue, Wash., for at least four months. In addition to an investment, the selected start-up will get access to a lot of Microsoft technology.
Additional speakers will be announced in the coming days. Techiepalooza will also feature a number of workshops designed to give startups and techies the practical tips that they can begin to implement within their businesses immediately. Workshop topics include: mobile application development, creating a company website in Wordpress, payment solutions, SEO, 3D Printing, prototyping, and using LEAN to optimize your startup. Startups and established companies will also be showcasing their companies and employment opportunities for techies and business-minded folks.
Techiepalooza was first started as a much-needed answer to developing an integrated startup community in the Phoenix area and beyond. Connectedness has always been challenging in the Phoenix tech and entrepreneurial communities and TP 2.0 will highlight and bring together the growing community of techies and entrepreneurs in the valley. In keeping with theme of connectedness, TP 2.0 is also focused on "going local", welcoming talent, speakers, sponsors, food trucks, microbrews, and wines from around town.
The success of the first TP event has helped to bring even more support to TP 2.0 with sponsors from all over the valley joining the event. Thanks to our sponsors and community partners-Recruiting.com, PADT, Microsoft, WePay, City of Tempe, ASU Alumni Association, SEED Spot, City of Scottsdale, Local First Arizona, the Hool Law Group, Yodel, Massage Envy, Spectrum Solutions, Popchips, WordCampPhx, LaunchSpot and Gangplank- TP 2.0 is also a completely free event.
About ASU SkySong (http://skysong.asu.edu/):
ASU SkySong impacts local, state and international economies by engaging the University with businesses and governments to drive economic development and corporate engagement. ASU SkySong helps grow the economy through launching and accelerating new companies and promoting use inspired research. ASU SkySong, and the dozens of emerging innovation driven companies located there, are dedicated to positively impacting the economies of our state and the country for years to come.
About ASU Venture Catalyst (http://asuventurecatalyst.org/p/):
ASU Venture Catalyst equips high potential startups for success. The Catalyst assists university students, faculty and staff, as well as local and global companies, with launching startups or accelerating existing ventures. Based at ASU SkySong, The Catalyst offers investor connections, technology road maps, go-to-market strategy consulting, mentoring opportunities, and several other programs and services, all designed to identify and develop investment-grade companies.