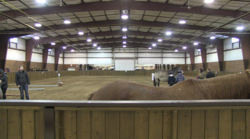 "Being able to offer these services year-round in a covered, insulated space, even when the temperature drops to -40 degrees Celsius, is a big advantage in the youth's treatment."
Prince Albert, Saskatchewan (PRWEB) October 31, 2012
The first snow of the season has fallen on Ranch Ehrlo Society's Buckland Campus, home of the Donalda Hansen Centre for Equine Therapy. The basketball courts are empty covered in the winter snow. Instead, the twenty children residing at the campus are inside the centre, learning about companionship, respect and responsibility. Afterwards they will head back to the residential units where they will continue to heal in a safe and caring environment. The Ranch Ehrlo Society has been serving the Saskatchewan community since 1966, by providing a variety of programs for its youth and families.
"At the ranch, we offer residential care to troubled individuals with developmental disabilities, community counseling services, sports programs, housing, and early learning centres," said Ranch Ehrlo Society Vice President Carole Bryant.
Most of the young adults who attend the Buckland campus have dealt with especially difficult childhoods. The Ranch Ehrlo Society works to positively change the course of their lives through specialized care. Constant interaction with horses has proven to be an excellent healing tool.
"Our families love working with the horses. It's amazing to see the kids open up around them. Many start off quite nervous, they are quiet and their heads are down. However, the more comfortable they get around the horse, the more empowered they feel. You can see the change in their demeanor; they have a new air of confidence," said Bryant.
In 2008,the Ranch Ehrlo Society purchased a pre-engineered riding arena from Allied Steel Buildings. Previously, their equine assisted therapy program was conducted outside, but this limited therapy to four months out of the year due to harsh weather conditions. Constructed in 2010, the Donalda Hansen Centre for Equine Assisted Therapy is a 20,000 sq. ft. state-of-the-art riding arena. The steel building is insulated and heated and includes a meeting space and an industrial kitchen for large groups. The arena can comfortably accommodate competitions and group events while still providing equine assisted therapy and riding lessons.
"This unique type of therapy helps in improving communication, developing healthy relationships, problem solving skills and the ability to build self-esteem. The program also helps with communication and team building within families when they come together to do exercises with the horses," shared Bryant.
To ensure that the children and their families receive the best possible treatments in an intimate and safe setting, the Buckland Campus grants admission to twenty children at a time.
"Being able to offer these services year-round in a covered, insulated space, even when the temperature drops to -40 degrees Celsius, is a big advantage in the youth's treatment," said Bryant.
Allied Steel Buildings is proud to be a part of such a life-changing program.
About Allied Steel: Allied Steel Buildings is a leading supplier of pre engineered steel buildings and prefabricated metal buildings systems. At Allied Steel Buildings, we offer exceptional prefab metal structures with outstanding customer service, committed to assisting you through each step of the building process. Our projects have been completed around the world, with a concentration in the Americas and the Caribbean. For assistance from our Project Managers, including design services and expert tips call 877-997-8335.