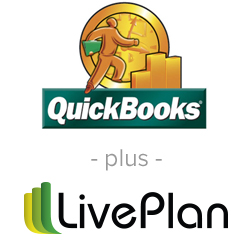 Connect your QuickBooks account to your LivePlan account for a chance to win a new iPad Mini!
Eugene, Oregon (PRWEB) October 31, 2012
Palo Alto Software, makers of the world's #1 selling business planning software, Business Plan Pro, Sales and Marketing Pro, and LivePlan, is excited to announce its integration with QuickBooks by Intuit. This integration allows entrepreneurs, business owners and managers to track their business finances in the cloud, and access their performance data from anywhere. QuickBook's Intuit Anywhere integration allows small businesses to connect their QuickBooks data with their LivePlan business plan with one-click, and instantly track their actual performance to their projected performance.
LivePlan gives entrepreneurs the opportunity to start, run and grow their business with a trusted tool from the world's best small business planning company. With the LivePlan "Scoreboard" feature, users can review and manage budgets, track key milestones and make adjustments to help them to better meet the needs of their market.
"We're so excited about this integration with QuickBooks that we're launching a contest to incentivize business owners and managers to connect their QuickBooks account with their LivePlan account, and instantly see how their business plan compares to their reality," stated Sabrina Parsons, CEO of Palo Alto Software.
Palo Alto Software is giving away an iPad Mini to one lucky United States-based business owner who connects to QuickBooks and imports data into their LivePlan Scoreboard to compare their actuals to their forecast. The winner will also receive a free press release with nationwide distribution (total prize value of $600). The accounts must be connected together by midnight (PDT), November 16, and the winner will be announced via email on November 30. To establish your LivePlan account, visit https://app.liveplan.com/signup
Research demonstrates that business owners who write and follow a plan are able to grow their business as much as 30% faster than those who fail to write a business plan. (Research by Professor Andrew Burke, Cranfield University, 2011)
Currently, the QuickBooks import feature works with QuickBooks for Windows 2009 and newer. Intuit is developing API (application programming interface) updates that will enable LivePlan to connect to QuickBooks for Mac and QuickBooks Online in the near future.
Alyson Cote, LivePlan customer and Vice President of Business Development for for Maternova's marketplace for maternal health technologies, commented, "We use QuickBooks and we use LivePlan and we are thrilled to see them coming together. Writing our business plan with LivePlan is the foundation that we have built everything upon. Now, with QuickBooks we can compare our vision for our company with reality and adjust our strategy as needed. Thank you LivePlan!"
Palo Alto Software CEO Sabrina Parsons added, "Typically entrepreneurs write their business plan for a specific purpose, such as obtaining a loan, bringing in a partner, establishing a credit line, or pitching to investors. Many entrepreneurs launch their venture and proceed full steam ahead. They put their plan in a drawer and never look back. Our new solution addresses the market need for tools that provide assistance with ongoing business planning. But more importantly, it helps real business owners automatically compare the reality based numbers reflected by QuickBooks to their business plan's projections - allowing them to not only track their success but also make timely course corrections if needed."
As Professor Burke notes in his research, "the most successful ventures are those who are extremely agile, and able to let their strategy evolve." He further states, "good planning builds agility." LivePlan allows business owners to set a strategy in place, monitor it regularly on their "Scoreboard," and evolve that strategy over time and adjust to the changing needs of the market.
Palo Alto Software recently hosted a free webinar to discuss LivePlan integration with QuickBooks and other great new features. A replay is available at http://youtu.be/6QGio9gE3pw for those interested in learning more.
About Palo Alto Software, Inc.
Palo Alto Software, Inc. makers of the #1 selling business planning software in the world, develops and publishes tools, products and content to help small and midsized businesses plan and manage their venture. LivePlan, the company's flagship product offers a cloud-based, access-anywhere solution for both PC and Mac users. Palo Alto Software has been the market leader in its category for over fifteen years. Founded in 1988 by business planning expert Tim Berry, the company is a privately-owned corporation based in Eugene, Oregon.