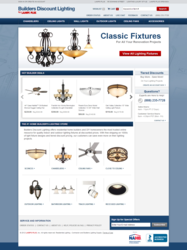 Offering builders and home owners a one-stop lighting supply resource.
Los Angeles, California (PRWEB) October 31, 2012
Lamps Plus, the nation's largest specialty lighting retailer, recently launched Builders Discount Lighting, a retail website dedicated to offering builders and homeowners a one-stop source for residential lighting. The new site offers 1000s of indoor and outdoor lighting fixtures, carefully assembled to include a particularly wide selection of the hard-wired designs and accessories that contractors and home owners require.
"We created Builders Discount Lighting with a very specific goal in mind—to deliver home builders and DIYers a residential lighting supply site based on the twin ideas of value and convenience," says Dennis Swanson, President and CEO of Lamps Plus. "Customers can shop with confidence on the site, because everything we sell is backed by the same guarantees and generous return policy as the parent company Lamps Plus."
For people doing major construction projects or multiple jobs, BuildersDiscountLighting.com offers an additional incentive to shop by providing a tiered discount, yielding savings percentages of 5-15% based on the amount a customer spends. Swanson explains, "At its heart, this is a builders supply site. So we've introduced this volume discount to benefit those who use it most."
Indeed, Builders Discount Lighting carries the products most builders require for new construction and remodeling. Customers can shop a full array of ceiling, wall and bathroom lights, and more in a variety of styles and finishes, from traditional brass wall sconces to sleek stainless steel modern chandeliers. Outdoor lighting is also available to meet the landscaping and security demands of a given property. Additionally, the lighting supply site offers a vast selection of accessories and beyond, including dimmers, exhaust fans, bathroom hardware and much more. Free shipping is included on most items.
BuildersDiscountLighting.com has been built to simplify the lighting specification process of a construction project. "For anyone who is building out the bones of a space, we've organized this site so that's it's easy to browse and shop for the lighting fixtures and accessories they need," says Angela Hsu, Vice President of Internet Marketing for Lamps Plus. "And with our tiered discount policy, purchasing – and saving – over the life of a project is a no-brainer." Builders Discount Lighting offers 1000s of designs in chandeliers, pendants and ceiling fans among others, with more to come as the site continues to build.
About Builders Discount Lighting
Builders Discount Lighting is the latest addition to the Lamps Plus family of websites, a group of lighting and decor websites which also includes Lamps Plus, 55 Downing Street, Lighting Luxury Style and Lamps Plus Open Box. Catering specifically to the demands of the professional builders, Builders Discount Lighting backs every purchase with the business experience, lighting know-how and shipping efficiencies of the Lamps Plus brand. Visit BuildersDiscountLighting.com.
About Lamps Plus
For more than 30 years, Lamps Plus has been synonymous with excellence in the lighting retail industry. Established in 1976, Lamps Plus is the nation's largest specialty lighting store, with more than 40 superstores throughout the western United States. Together with their retail locations and online business, Lamps Plus serves customers nationwide with the largest selection of functional and decorative lighting fixtures, accessories, furniture and home decor. This selection includes hundreds of products available exclusively from Lamps Plus. Services include in-home lighting consultations, in-store workshops and installation from expert, licensed electricians. American Lighting Association certified designers are available to offer product recommendations and lighting advice in all our stores, by phone or online at LampsPlus.com.