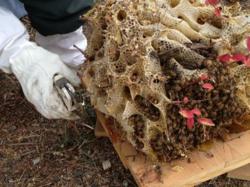 These bees strangely built their hive around a bush near a strip mall both of which would prove deadly for the swarm.
Spokane, Washington (PRWEB) October 31, 2012
This week a Spokane pest control company got a call to exterminate a swarm of wild honey bees that were noticed near a strip mall. Typically when a call like this comes in they don't really have a choice but to exterminate the bees with pesticide. This day would be different and these bees would never know how close they came to going to "honey bee heaven" (although it certainly has a nice ring to it).
Bill Romine is a local business owner in Spokane, he raises sheep and among other things, fruit trees. To have great fruit trees you need bees and noticed there really weren't exactly an abundance of bees around. Honey bees in general haven't been doing well recently with all the pesticides and other hurdles for them in today's modern world.
Bill contacted the local pest control and fire departments to be alerted of any calls of "problem" honey bees in the area. He soon started getting calls from all over the city, everything from a swarm in a tree to bees living in the wall of a residential home. It's no wonder there are a shortage of bees..
Bees are amazing but sometimes make some strange choices. Bees typically will build a hive inside a tree or other sheltered location and survive, hidden through the winter eating the honey they've stored up. Bill received a strange call about a swarm that decided to build their hive around a bush and better yet, next to a busy strip mall. This unique "bush hive" they built over the summer unfortunately would not protect them from the winter cold even if the mall hadn't called the exterminators.
He headed out to the busy strip mall with his bee suit and smoker and carefully clipped the hive out of the bushes. This is essentially the beekeepers equivalent of separating Siamese twins with maniacal Alfred Hitchcock seagulls dive bombing you. He then carefully transported the large hunk of hive dripping with honey to his custom natural hive he had prepared out at his farm. Although there wasn't enough honey for Bill to harvest any, he takes pride in knowing the bees are still alive and still contributing to the ecosystem...the honey will come next year.
Bill is known around Paradise Fibers as "Ulee" from the movie involving bee keeping, Ulee's Gold starring Peter Fonda. If Spokane bees get into trouble they can count on Bill to come to the rescue. Bill is officially becoming a "bee hoarder" out at the farm but A&E TV has yet to create the reality show.
Paradise Fibers has been in business selling knitting yarn and spinning fiber since 1995. Paradise Fibers has a full featured wool shop with everything from spinning wheels to weaving looms and beyond. The company is family owned and operated and consists of a sprinkling of Romine family members, some amazingly dedicated fiber junkies and 1 boy aspiring to be a stunt man.
By: Travis Romine – Fiber Wrangler
sales(at)paradisefibers(dot)net
http://www.paradisefibers.com
225 W Indiana
Spokane, WA 99205
(509) 536-7746