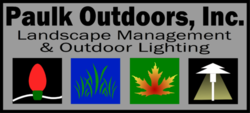 Owner Jason Paulk makes customers' quality experience the top priority.
Locust Grove, GA (PRWEB) October 31, 2012
Since 2002, Paulk Outdoors, Inc. has provided a number of services for residences and businesses in Locust Grove, GA and the south Atlanta region. Paulk Outdoors offers basic property and lawn maintenance services such as mowing, edging, pruning and weeding. In addition, they specialize in complete landscape design and installation for gardens, patios, pool areas, flower beds and other outdoor areas. This includes professional mulching and pinestraw, rock and stone installation, seasonal trees and shrubs, lawn aeration, and seed application. Paulk Outdoors utilizes virtual reality technology so customers can help mold the landscape to complete satisfaction.
It is this commitment to total quality and customer satisfaction that has allowed Paulk Outdoors, Inc. to maintain a reputation of trust and a loyal customer base. Owner Jason Paulk makes customers' quality experience the top priority. He strives to exceed expectations the first time, every time!
He now applies these same principles to providing outdoor lighting services to homes and businesses in south Atlanta. NiteTime Decor by Paulk Outdoors, Inc. excels in quality lighting design and installation. Each outdoor lighting system is completely customized! Trained lighting professionals utilize the natural beauty of the outdoor area to achieve a desired lighting system that extends the living area and provides a level of security. Only the highest level of proucts are used, such as lifetime warranted brass fixtures and LED retro fit lights, making your lights more efficient and longer lasting. In addition, Paulk Outdoors continually monitors your lighting system to make adjustments, alterations or additions. By adding NiteTime Decor, Paulk Outdoors gains the support and professional warranty of an industry leader in providing residential and commercial outdoor lighting.
Christmas Decor is the favorite seasonal service of Paulk Outdoors, Inc. Paulk Outdoors takes the hassle out of the Christmas season, providing a full service program for exterior holiday lights and decorations. This includes installation, maintenance throughout the season, timely removal of lights and decorations at the end of the season, and storage of all materials until the next year. Paulk Outdoors designs, installs and fits each of the products specific to the property. With proactive servicing, automatic decoration replacement and annual consultations, Paulk Outdoors maintains its standards of customer quality experience. Remember, it is never too early to design the perfect Christmas holiday display for your home or business!