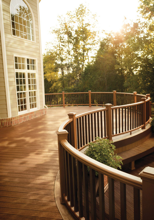 San Francisco, CA (PRWEB) October 31, 2012
411 Deck Pro, a San Francisco deck contractor, recently rolled out its new website design that affords site visitors a simple and easily navigable interface in which to engage with resources about decks.
The new navigation menu provides visitors to the 411 Deck Pro website ease of access to various deck resources. With this addition to the navigation menu, it is now easier to reach deck building and deck design information in the Deck Resource Center, the Commercial Deck Image Galleries, the Residential Deck Image Galleries, and the Deck Accessories Image Galleries.
The 411 Deck Pro Deck Resource Center provides visitors to the site with a wealth of information about deck design, deck building resources, and deck maintenance. With the update to 411 Deck Pro's website, the Deck Resource Center is easier to browse through, and therefore, visitors can gather useful tips on a number of deck design and deck building topics.
The newly added image gallery sections showcase the past work completed by 411 Deck Pro and their licensed and bonded deck contractors. Past deck projects include commercial decks, residential composite decks, residential wood decks, and the installation of deck accessories, including deck railings and deck lighting. These image galleries reveal the breadth of 411 Deck Pro's projects, and the wide range of possibilities available to prospective clients who are considering undertaking a deck building project.
For more information on 411 Deck Pro, the new 411 Deck Pro website, and building a deck, contact 411 Deck Pro today.
---
411 Deck Pro specializes in deck building. From an in depth deck resource center to a three step referral process, 411 Deck Pro ensures the best possible deck building experience. Serving San Francisco and surrounding areas, 411 Deck Pro provides referrals to preferred licensed and bonded deck contractors in California.