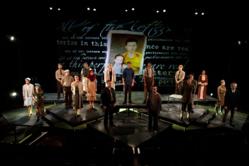 ORANGE, Calif. (PRWEB) October 31, 2012
The wartime letters of American soldiers, sailors and airmen and their loved ones at home are brought to life in a new play opening on Wednesday, November 7 at Chapman University. After its successful world premiere at Chapman in 2010, an exciting new version of Andrew Carroll's If All the Sky Were Paper will be presented by the Department of Theatre on the Waltmar Theatre stage. This production will kick off Carroll's 50-state tour, sponsored by Chapman University to promote the Legacy Project, and encourage people to preserve these invaluable documents that help define our collective history of the war experience.
If All the Sky Were Paper was written by Carroll based upon his New York Times bestselling books War Letters and Behind the Lines. Carroll launched the Legacy Project in 1998 – a national, all-volunteer initiative that works to find and preserve wartime correspondence from all of America's wars and from both sides of the conflicts. He has traveled to 40 countries, including Iraq and Afghanistan, to seek out what he calls "the world's greatest undiscovered literature," and has collected more than 87,000 previously unpublished letters (and now emails) from every conflict in U.S. history.
"These letters are intimate, deeply personal portraits of the courage, sacrifice, and sense of duty that made this country." Tom Brokaw
"These war letters are more deeply moving, more revelatory, and more powerful that any dispatch from the front. It's the truly felt history of what war is all about." Studs Terkel
If All the Sky Were Paper features the best of the Legacy Project's never-before-seen letters, as well as letters published in both War Letters and Behind the Lines. Actors – most around the same age as the letter-writers were in their time – will take on the roles of the military men and women and their loved ones at home, acting out the full spectrum of emotions and experiences contained in the letters. From the incredible drama of the human experience in battle to the pathos and humor of everyday life on the war front and the home front, audiences will be moved and inspired by the correspondence of those caught up in the war experience.
The play will run in the Waltmar Theatre, November 7-11 at 7:30pm, with 2:00pm performances on November 10 and 11. Tickets are $20 general admission, $15 for students and senior citizens, and may be purchased at the door on performance nights or in advance by phone at 714-997-6812 or online: http://chapman.universitytickets.com/user_pages/event_listings.asp. Veterans receive $10 tickets for the performances November 7-10. On Veterans Day, November 11, all veterans receive two complimentary tickets for either performance. The complimentary tickets may be arranged in advance by calling Joann King at 714-744-7001 or at the door before the performance.
Several special events are tied to the production. On Thursday, November 8, an interdisciplinary discussion and audience Q&A with the play's director, John Benitz, and Carroll will take place following the performance. A pre-show talk by Carroll about the Legacy Project will be given on Friday, November 9 at 7:30pm, and the show will begin at 8:00pm. The November 11, 2:00pm performance will be followed by a post-show discussion with Carroll, Benitz and invited VIP guest speakers, to be announced.
Carroll's letters have been featured on Oprah, NBC Nightly News, ABC's Good Morning America, CBS Sunday Morning, CNN, Fox News and This American Life, as well as many national publications. Carroll's books include the bestsellers Letters of a Nation, War Letters, Behind the Lines, and Operation Homecoming, which inspired the Oscar-nominated and Emmy-winning PBS documentary of the same name. His latest book, Here is Where: Discovering America's Great Forgotten History, was published by Crown in May 2013.
The show runs approximately 80 minutes with no intermission.
This production is sponsored in part by The Institute for Military Personnel, Veterans, Human Rights & International Law & AMVETS Legal Clinic and USVAA (United States Veterans' Artists Alliance).