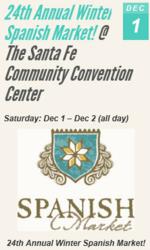 Santa Fe, NM (PRWEB) October 31, 2012
The 24th Annual Winter Spanish Market is set for 9 a.m. to 5 p.m., Sat., December 1, 2012 and 9 a.m. to 4 p.m., Sun., December 2, 2012 at the Santa Fe Community Convention Center, 201 W. Marcy St., Santa Fe, NM. Festivities for the event include a 'Luncheon with the Artists' at 12 p.m., Wed., Nov. 28, 2012 and the 'WinterNite Party' from 6 to 9 p.m., Fri., Nov. 30, 2012. Tickets to the festivity events sell out quickly normally so visitors and locals interested in attending either of these events are encouraged to buy tickets now. These events are listed on the SantaFe.com event calendar.
The Luncheon for the 24th Annual Spanish Winter Market allows groups of ten to have a cozy lunch with Spanish Market artist and learn more about the artist and their artwork. Tickets are $55 or $500 for a table. Reservations are required to attend this event.
The 'WinterNite Party!' for the 24th Annual Spanish Market is the preview party to begin this traditional event. Spanish Market artists will exhibit and sell their art during this special event, which also features music and food. Tickets are $25 for Member of the Spanish Colonials Arts Society and $40 for non-members. Memberships in the Spanish Colonial Arts Society begin at $40. Tickets are required for this event. Interested attendees are encouraged to call 505-982-2226 to reserve and pay.
About SantaFe.com:
SantaFe.com provides locals and visitors to Santa Fe alike the most current interactive platform for events, music, arts, business, dining and lifestyle. SantaFe.com is a division of Hutton Broadcasting, located at 2502 C. Camino Entrada, Santa Fe, NM 87507
Contact Information:
Scott Hutton
SantaFe.com / Hutton Broadcasting
http://www.santafe.com
(505) 471-1067 (Media inquiries only, please)