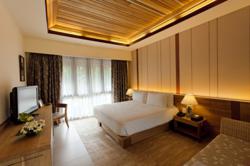 Phuket, Thailand (PRWEB) October 31, 2012
The Outrigger Phi Phi Island Resort and Spa officially opens this weekend in southern Thailand. As of November 3, the stunning 156-key 70-acre property, formerly known as the Phi Phi Island Village Beach Resort and Spa, will be run by Outrigger Hotels and Resorts, the 65-year old Hawaii-based company that continues to expand throughout Asia-Pacific from its regional headquarters in Phuket, Thailand.
Outrigger took over the sales and marketing of the property in October of last year. Since then, extensive improvements have been made, including the addition of 44 new Deluxe Garden Bungalows. Food and beverage venues have been enhanced, and the gym has been improved.
"We have started to implement Outrigger international standards across facilities, food and beverage and human resource services," said Darren Edmonstone, Managing Director Asia-Pacific for Outrigger. "It's a completely new era for one of the most beautiful beach resorts in Thailand," he said.
The new 571 sqf (53 sqm) Deluxe Garden Bungalows are the highlight of the changes. They are located in clusters giving the atmosphere of a traditional Thai village. Inside, the interiors are contemporary with Thai touches. Each one features a walk-in wardrobe, a flat screen television, and iPod/iPhone docking station.
"The new Deluxe Garden Bungalows now give our guests superlative comfort and amenities on a par with the idyllic standards set by Mother Nature all around," said the property's General Manager, Marc Landgraf, who was appointed in July.
A new executive chef with extensive luxury hotel experience has also been hired to implement a completely refreshed food and beverage offering. He will bring acclaimed culinary expertise in Thai, French, Italian and Japanese cuisine to the Outrigger Phi Phi Island Resort and Spa. His new creations will be available in the resort very soon.
The property already wins consistent accolades on TripAdvisor. The unique location in a quiet peninsula of northeast Phi Phi allows guests to step from the resort right on to a nearly half-mile (800-metre) white sand beach with translucent sea water. Outrigger guests can enjoy snorkeling, scuba diving, private boat excursions, fishing and a full spa facility.
"Guests seeking a wonderfully unique beach setting in Thailand with high quality international standards of service and comfort, should take a new look at what we offer on Phi Phi Island with Outrigger," said Landgraf.
A 360-degree virtual tour of the new Outrigger Phi Phi Island Resort and Spa is available here.
For editors: high resolution images of Darren Edmonstone, Marc Landgraf and the new look of the Outrigger Phi Phi Island Resort and Spa can be downloaded here.
About Outrigger Enterprises Group
Outrigger Enterprises Group is one of the largest and fastest growing privately-held leisure lodging and hospitality companies in the Asia-Pacific and Oceania regions and continues to expand its presence throughout the area. A family-owned company with 65 years of hospitality experience, Outrigger runs a highly-successful, multi-branded line of hotels, condominiums and vacation resort properties, including Outrigger® Hotels and Resorts, OHANA® Hotels and Resorts, Embassy Suites®, Best Western®, and Wyndham Vacation Ownership®. Currently, Outrigger operates and/or has under development 45 properties with approximately 11,000 rooms located in Hawaii; Australia; Guam; Fiji; Bali; Thailand; Vietnam; and Hainan Island, China. Outrigger Enterprises Group also operates and develops hotel properties and hospitality-related retail and real estate opportunities for partners in Hawaii, the Pacific, and Asia. For on-line information, log on at http://www.outriggerenterprisesgroup.com and http://www.outrigger.com.
Outrigger Hotels and Resorts, Asia-Pacific
Ste 105-108, Plaza Del Mar, No. 1 Pasak-Koktanod Rd
Cherngtalay Sub-Dist., Thalang District
Phuket Province, 83110 Thailand
Tel: (+66) 76 318 230
Fax: (+66) 76 318 232
Email: pieter.vanderhoeven(at)outrigger(dot)com
Media Contact, Asia
Ken Scott
ScottAsia Communications
Mobile: (+66) 86 397 8814
Email: kens(at)scottasia(dot)net
Anchalee Sriwongsa
ScottAsia Communications
Tel: (+66) 2 860 8227
Email: ann(at)scottasia(dot)net
Media Contact, U.S.
Nancy Daniels, APR, Director of PR, Corporate head office
Outrigger Enterprises Group
Phone: +1 808 921 6839
Email: nancy.daniels(at)outrigger(dot)com