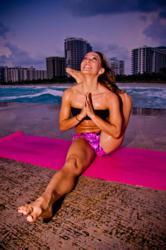 "Yoga changed my life. It gave me a clear mind and courage to bring my dream to life."
Miami Beach, FL (PRWEB) October 17, 2012
The most important benefit of yoga is physical and mental therapy. Practicing yoga can slow the aging process, which is largely an artificial condition, caused mainly by autointoxication or self-poisoning. By keeping the body clean, flexible and well lubricated, one can significantly reduce the catabolic process of cell deterioration. To get the maximum benefits of yoga one has to combine the practices of yoga asana, pranayama and meditation.
"We hide all of our issues, emotions and problems in and out of bodies, we absolve them and get stock in your joints and muscles, and then when we move our body they get released." Quotes from Mysore Magic Film – Yoga at the source
"I think you need to practice if you live in NY" Quoted from Willem Dafoe about Ashtanga yoga
"Yoga changed my life. It gave me a clear mind and courage to bring my dream to life." Yumi Miyanishi of Spacecat
Physicians and scientists are discovering brand new health benefits of yoga everyday.
Regular yoga practice can help in weight management. Firstly, some of the asana stimulate sluggish glands to increase their hormonal secretions. The thyroid gland, especially, has a big effect on one's weight because it affects body metabolism. There are several asana, such as the shoulder stand and the fish posture, which are specific for the thyroid gland. Fat metabolism is also increased, so fat is converted to muscle and energy. This means that, as well as losing fat, one will have better muscle tone and a higher vitality level.
Yogic practices that reduce anxiety tend to reduce anxious eating. In addition, yoga deep breathing increases the oxygen intake to the body cells, including the fat cells. This causes increased oxidation or burning up of fat cells. Yogic exercises induce more continuous and deeper breathing, which gradually burns, sometimes forcefully, many of the calories already ingested.
According to Yoga philosophy, by cleansing one's mind and controlling one's thought processes one can return to that primeval state, when the individual self was nothing but a part of the Divine Self. This is the sense encapsulated in the term Samadhi. The aim of the yogi is to be able to perceive the world in its true light and to accept that truth in its entirety.
In Sanskrit, the term 'yoga' stands for 'union'. A yogi's ultimate aim is to be able to attain this 'union' with the Eternal Self with the help of certain mental and physical exercises.
Regular practice of asana, pranayama and meditation can help such diverse ailments such as diabetes, blood pressure, digestive disorders, arthritis, arteriosclerosis, chronic fatigue, asthma, varicose veins and heart conditions. Laboratory tests have proved the yogi's increased abilities of consciously controlling autonomic or involuntary functions, such as temperature, heartbeat and blood pressure. Research into the effects of yogic practices on HIV is currently underway with promising results.
About Spacecat:
Spacecat was created in New York City in 2000, when Yumi Miyanishi made a claymation short film called "Katzilla"
After Yumi started practicing Ashtanga Yoga, she noticed what women were wearing. Seeing the same yoga/athletic-wear everywhere, she thought there must be other women who would like to dress differently to practice yoga or to work out. Moving from Tokyo to New York to New Orleans and then to Miami Beach, the idea of her own line gradually took shape.
With the encouragement and help of many friends, she decided to use her background in fashion design and create yoga/athletic-wear that she would love to wear.
Spacecat Inc. was launched in June 2010 in Miami Beach, Florida.