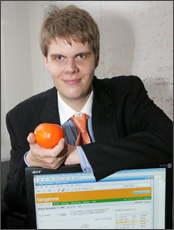 Washington, DC (PRWEB) October 19, 2012
The Atlas Society announces Aaron Day as its new CEO. Day brings nearly two decades of entrepreneurial experience and a passion for Objectivism. Day was promoted to CEO after working in the capacity of COO for one year. His mandate is to aggressively scale up The Atlas Society in its mission to promote open Objectivism: the philosophy of reason, achievement, individualism, and freedom.
David Kelley, the founder of The Atlas Society, will remain the intellectual leader of the organization in his role as Chief Intellectual Officer.
"Aaron brings a terrific set of entrepreneurial, finance, technology, and market skills to The Atlas Society. The nation is at a crossroads and the battle lines are clearly drawn between reason vs. authority and individualism vs. collectivism. The addition of Aaron will help us to capitalize on our 20+ year history of developing terrific Objectivist content and our association with the Atlas Shrugged movie trilogy," said Jay Lapeyre, Chairman of the Board of Trustees.
Board of Advisors:
Ed Crane
President, Cato Institute
Steve Davis
Director of Advanced Projects, SpaceX
R. Paul Drake
Professor of Physics, University of Michigan
Marsha Enright
Founder, Reason, Individualism, Freedom Institute
Jared Fuller
President, Market Aces
Stephen Hicks
Professor of Philosophy, Rockford College
Matt Holdridge
Partner, Exchange Marketing Group
David N. Mayer
Professor of Law and History, Capital University Law School
Alexander McCobin
President, Students for Liberty
Tom Palmer
Director, Special Projects, Atlas Economic Research Institute
David Ross
Professor of Mathematics, Rochester Institute of Technology
William Walsh
Founder, Heckle Sketch
About Aaron Day:
Day has eighteen years of CEO and startup experience and has been a supporter of Objectivism for over 20 years. Day is chairman and CEO of Tangerine Wellness and was Entrepreneur-in-Residence at Industry Ventures, a technology-focused venture capital firm. He served from 1995 to 2001 as Chairman/Chief Executive Officer of Iconomy, an e-commerce ASP (acquired), where he was responsible for Iconomy's strategy and operations. Prior to Iconomy, Mr. Day helped implement a state of the art software system for the largest privately held managing general underwriter, Stop Loss International (acquired by UnitedHealth Group). Day is currently a member of the advisory committee for the X-Prize Foundation. The Boston Business Journal selected Day in 2004 as one of their 40 Under 40 leading business leaders and innovators. Day has been cited in The Wall Street Journal, Forbes, Huffington Post, Investors Business Daily, The New York Times, The Boston Globe, and many other major media outlets. Day studied mathematics and economics at Duke University and biology at Harvard UES.
About The Atlas Society:
Founded in 1991, The Atlas Society (TAS), a 501(c)(3) nonprofit organization headquartered in Washington DC, develops and promotes open Objectivism: the philosophy of reason, individualism, achievement and freedom. Objectivism was founded by Ayn Rand (1905-1982), the author of Atlas Shrugged, The Fountainhead, The Virtue of Selfishness, and other works. As the founders of open Objectivism, TAS believes that the philosophy is a body of knowledge open to expansion and revision, through rational inquiry and open discussion and debate. The organization's programs reach a broad audience ranging from the general public to graduate students in philosophy.