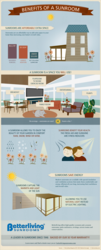 Sunrooms Help Save on Energy Bills and also Increases Home's Overall Value
(PRWEB) October 11, 2012
Summer may be over, but there's always time to reap the benefits of a sunroom. Sunroom benefits go beyond just looks and appearance. To illustrate the various benefits of a sunroom, Betterliving Sunrooms, a Craft-Bilt Manufacturing Company that specializes in home improvement products, created the Benefits of a Sunroom infographic. Based on Betterliving's customer feedback and industry leading websites, the infographic highlights several reasons why a sunroom is beneficial:

Creates an affordable added living space
Saves energy by capturing natural light
Benefits health with fresh air, which can be a stress reducer
Sunrooms are an affordable way to add extra space to a home, thus increasing the home's overall value. Sunrooms can also help save cost on energy bills by capturing the warmth and light of the sun. In addition, sunrooms benefit health by bringing in fresh air and sunshine which are natural stress reducers. Betterliving Sunrooms are the most affordable home improvement option, listed at under $20,000, when compared to a garage addition or a basement remodel.
Andy Stone, President of Craft-Bilt Manufacturing Company, says, "Very often, the first home improvement that is made by a home buyer is adding a deck. Once they have the deck, they rarely use it. Do they use it when it rains? When it's too windy? Too sunny? Too cold? At night? When there is snow on the deck? So when can they use it? Only on calm clear days when the temperature is not too hot and not too cold. We can fix that for them. Everyone who has a deck needs a sunroom if they want to get significant use out of it. Why would you pay five or ten thousand dollars for something that you can't use?"
To view the infographic, accompanied by images, visit http://blog.betterlivingsunrooms.com/2012/09/sunroom-benefits-infographic/
For other home improvement products and information, visit http://www.betterlivingsunrooms.com/.
About Betterliving® Sunrooms
Betterliving® Sunrooms is a leading American sunroom manufacturer since 1946. We manufacture high quality, maintenance-free sunrooms to help you enjoy the outdoors in comfort. Our other home remodeling products include retractable awnings, conservatories, retractable canopies, exterior solar shades, screen room and patio covers, and replacement windows. All of our products are backed by our 50 year warranty.
Contact:
Jessica Leidy
jleidy(at)craftbilt(dot)com
215-721-7700 x169