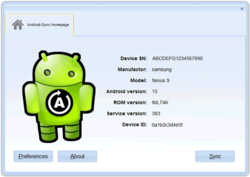 Of all the sync programs out there, Android-Sync is by the far the best
Brea, CA (PRWEB) October 09, 2012
Android-Sync is a simple and powerful program that uses USB connections to make sure the contacts, calendar appointments, tasks and notes are synced between Android devices and Outlook on the Windows PC.
Android-Sync works in the same way as popular syncing products like Blackberry Desktop and Microsoft ActiveSync but beats both hands down. Now Android users have the same capabilities as users of other popular professional mobile OS. Data security is assured, because data is transmitted through a USB data cable. Data is never stored in the cloud or sent wirelessly, keeping it away from prying hackers and thieves. And the syncing speed is lightening fast.
Android-Sync syncs all the details associated with each contact – email address, multiple telephone numbers, address, photos, company information, and more. Android-Sync groups contacts in the same categories set up in Outlook. No further set up is required to send group emails from the stock Android email app. The calendar sync supports all day events, recurring appointments and exceptions from set recurring appointments.
Of all the sync programs out there, Android-Sync is by the far the best. It's easy to use, provides sync capability with Outlook and is constantly being updated by a fresh and obviously motivated team. It provides added value to the Android platform, and leaves any other sync solution far behind.
Android-Sync works well with all popular Android devices, including the Samsung Galaxy S2 (I9100) / S3 (I9300), Galaxy Nexus, Galaxy Note, Motorola Droid, Motorola RAZR, Sony Ericsson Xperia and many other Android devices.
It works on Windows versions from XP through 8, both 32-bit and 64-bit and with Outlook 2000 to Outlook 2013, including 64-bit versions.
For a list of features, visit http://www.android-sync.com/features/.
Users can download the free trial version from this website, and purchase a product to unlock the full version. http://www.android-sync.com/
Name: Android-Sync.com
Phone: +1.2139471032
Email: market(at)android-sync(dot)com
URL: http://www.android-sync.com