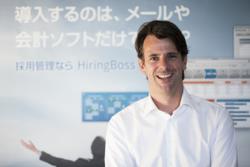 "HiringBoss is simple: in-house HR software for Asian businesses. In the Cloud, feature-rich, affordable and easy-to-use for everyone"
Singapore (PRWEB) October 01, 2012
HiringBoss, Asia's fast-growing talent acquisition SaaS specialists, today announced the appointment of Rolf Bezemer as Global Chief Operating Officer (COO). As an HR-technology and SaaS industry veteran, Bezemer is now at the helm of HiringBoss's aggressive market expansion and is leading their 'Asian HR Revolution' across the APAC region.
A seasoned industry leader, Bezemer previously lead Lumesse SaaS Solutions' business in SEA and ANZ as Managing Director. Whilst there he gained invaluable first-hand experience, not only in growing successful businesses in the region but also of the unique challenges currently facing Asian HR processes. Prior to joining Lumesse (Formerly StepStone Solutions), Bezemer was International Partner Manager at MrTed, a talent acquisition vendor, responsible for Central Eastern Europe, Southern Europe and the APAC operations.
'I have been fortunate enough to have accrued almost a decade at the coal-face of the HR Software and Cloud industries" said Bezemer. "My time spent growing successful businesses in the HR Software space here in Asia has convinced me of the enormous opportunity for an HR tech provider to stand up for the interests of Asian businesses." Bezemer commented "For too long Asia has looked to the US or Europe to provide leadership on HR technology and processes. This is fine in principal, but the reality is that these solutions simply do not meet the needs of Asian businesses- either in terms of service, support, language capabilities, compliance, user-adoption behavior or even certain basic processes."
Bezemer continued "We believe that in the next 5~10 years we will see more and more Asian business expanding across the globe. To do this effectively, they will require HR tools that have been developed for their business needs and work the way they want them to. HiringBoss aims to be that tool".
Bezemer's appointment underlines HiringBoss's unique position as the only HR technology provider solely dedicated to the Asian region.
"Rolf instantly grasped the HiringBoss concept: Asian HR software for Asian businesses, in the Cloud, feature-rich, affordable and easy-to-use for everyone." said HiringBoss Founder and CEO, Bernie Schiemer. "His strong sales management experience, leadership skills, customer focus and understanding of the market in Asia make him the perfect choice to consolidate and lead growth into new territories across the region." Schiemer adds, "We have a highly-motivated and phenomenally talented team who join me in today welcoming Rolf to the HiringBoss family."
As for Bezemer, he was forthright about his objectives. "At HiringBoss we are determined to dominate each of the local markets we're in. From attracting, screening, hiring and managing talent, we are focused on working within a local context, plugging into the best of local job boards, social media and agencies. Let me be absolutely clear here: our main objective is Asia. We will cater for growth plans of our customers across the globe but our main focus is, and will continue to be, to deliver the best of HR Cloud applications for Asian businesses. HiringBoss is ready to lead the HR Revolution in Asia and I am delighted to be a part of it".
About HiringBoss.
Celebrating our first birthday this month, HiringBoss is one of the fastest growing tech start-ups in Asia and a dynamic new contender in the arena of HR technology. HiringBoss's combines innovative new features, a best-in-class user interface, multi-language compatibility and intuitive design. Suitable for businesses of all sizes, we have clients across a range of industries spanning Government, Engineering, Manufacturing and Pharmaceuticals. These include the Singapore Tourism Board, Mitsubishi Fuso, Yellow Pages and Canon.
We have offices operating in Singapore, Japan and Vietnam, and immediate plans for expansion into Indonesia, Thailand, Korea and China in the coming months. We are currently available in 9 Asian languages, with more on the way before the end of 2012.
We are currently actively sourcing talented people in Indonesia and Thailand to become part of the HiringBoss story. Visit http://www.hiringboss.com for more information.
Join Asia's HR Revolution…and get in the cloud with HiringBoss.
-Like Us: facebook.com/HiringBoss
-Follow Us: twitter.com/HiringBoss
-Blog: hiringboss.com/blog