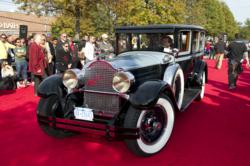 Manhasset, Long Island (PRWEB) October 03, 2012
The 8th Annual Americana Manhasset Concours d'Elegence, will take place on Sunday, October 14. The event has grown into one of New York's premier luxury car events featuring 200 rare, privately owned cars that compete for Best in Show as well as Best in Class titles.
The 2012 event is entitled, Technology of Movement and will feature a curated cross section of fashion, amazing cars and technology. In keeping with this theme, Americana Manhasset is pleased to welcome Alexander C. Klatt, Vice President and Global Design of Fisker Automotive, as our guest of honor.
This year's event will showcase truly exceptional concept and vintage cars including a rare 1947 Ferrari 159S Chassis number 002C, which is believed to be the world's oldest Ferrari. Other highlights include a 1959 Ferrari GT California Spyder and a 1965 Aston Martin DB5. (list in formation).
Official judging begins at 9:30 am. Howard Krimko, National Director of Rolls Royce Owners Club, will serve as Chief of Judges for the event. The results of the competition and the award presentation, courtesy of Tiffany & Co., will take place at 2pm on the north side of Americana Manhasset.
This year, the Concours will benefit Sunrise Day Camp though the purchase of raffle tickets to win a 2012 Maserati GT Convertible. Sunrise Day Camp is the only dedicated camp in the nation for children with cancer and their siblings, where summer camp and year-round programs are provided free of charge. To purchase raffle tickets please call 516.634.4148 or visit http://www.sunrisedaycamp.org.
Sponsors for this year's event include Tri-State Cadillac Dealers, Deutsche Bank, Plycon Transportation Group, Deutsche Bank, DiMillo's Yacht Sales / Sabre Yachts, Long Island Plastic Surgical Group, Shawn Elliott Luxury Homes and Estates, Autosport Designs, Bentley Long Island, Biener Audi, BMW North America, Fisker of Great Neck, Jaguar of Great Neck, Manhattan Motorcars, Maserati of Long Island, Miller Motor Cars Aston Martin Long Island, Rallye Lexus, Rolls Royce Long Island and Roslyn Porsche.
Americana Manhasset is a premier collection of sixty fabulous luxury and contemporary shops, including Louis Vuitton, Prada, Gucci, Chanel, Hirshleifers, Cartier, Hermès, Tiffany & Co., Dior, Fendi, Ralph Lauren, Salvatore Ferragamo, Brooks Brothers, Ermenegildo Zegna, Loro Piana, Toku Modern Asian and more, all within a unique outdoor environment designed by renowned architect Peter Marino and landscape designer Oehme van Sweden. Americana Manhasset offers a complimentary Personal Shopping Service, a remarkable luxury fashion and gift resource. Located on Long Island's beautiful North Shore, Americana Manhasset is 20 miles from Manhattan and 50 miles from the Hamptons. For more information on Americana Manhasset or the Concours d'Elegance, please visit our website, blog, Facebook page or follow us on Twitter @AmericanaShops.