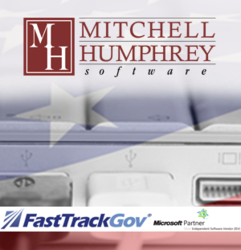 The familiarity of Microsoft Dynamics® CRM provides the best possible user experience.
Phoenix, Arizona (PRWEB) October 30, 2012
The 98th Annual International City and County Management Association (ICMA) Conference and Exposition held on October 7-10, 2012, offered educational sessions with in-depth exploration of the most pressing challenges facing cities and counties across the United States. This year's conference explored how communities could embrace their uniqueness to create dynamic and rewarding places for residents to live and work through community development solutions.
As traditional resources have waned, maximizing the contribution of residents was the key ingredient to a successful community. Officials were encouraged to engage individual citizens, community groups, and neighborhood associations in an effort to help solve problems, address issues, and build community relations.
ICMA was an ideal venue for Mitchell Humphrey to introduce its FastTrackGov® product line to managers interested in using on-line tools. Mitchell Humphrey built its full suite with the belief that community building is critical to turning a well-managed city or county into a strong, vibrant community. Survey findings show that the top two barriers to implementing e-government are the lack of financial resources and the lack of technology and/or web staff. With the implementation of cloud solutions, both obstacles can be significantly reduced.
"The familiarity of Microsoft Dynamics® CRM provides the best possible user experience. We are able to offer a choice of a traditional on-premise deployment or the agility and speed of the cloud," stated Kim Schaefer, President and Chief Operating Officer of Mitchell Humphrey.
The FTG Connect® web portal allows municipalities to accept payments for licenses, permits, or other fees. FastTrackGov allows a community to configure its applications to their city ordinances. On-line messaging can be used to track conversations by both officials and citizens.
About Mitchell Humphrey
Since 1977, Mitchell Humphrey has been providing software and services to clients in both the public and private sectors. Today, clients across North America benefit from our solutions in citizen services, accounting, human resources/payroll, community development, and cashiering.